Iran protests: Telegram under fire as Tehran clamps down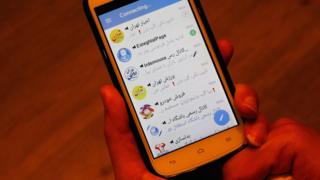 The authorities in Iran blocked access to the messaging app Telegram over the weekend, as anti-government protests spread across the country. The BBC's Leyla Khodabakhshi looks at the role the app has played.
The demonstrations started last Thursday in Mashhad, historically a bastion of religious conservatism, and have now reached more than 55 cities and towns.
Telegram - which has an estimated 40 million users in Iran, equivalent to almost half the population - is believed to have been the main platform people used to obtain and share information about the protests.
Many Iranians use private Telegram groups to keep in touch with family and friends.
More importantly, they subscribe to public channels to get the news that is not available on state media.
According to researchers at Iran's Supreme Council of Cyberspace, an average Telegram user in Iran subscribes to more than 18 public groups with more than 5,000 members.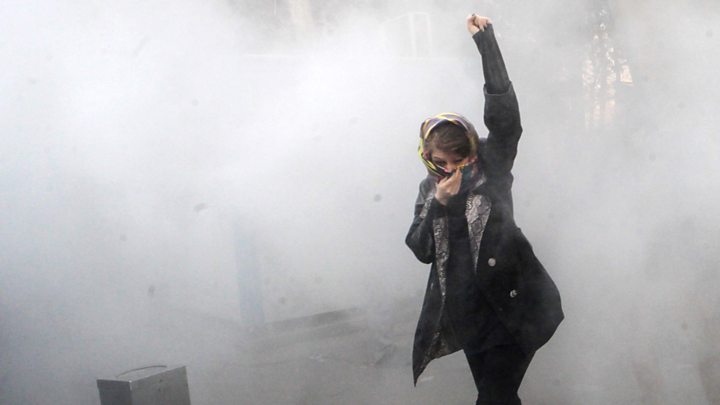 It was not surprising, then, that on the fourth day of the protests, the Iranian authorities "temporarily" blocked Telegram, as well as the popular social media platform Instagram.
On Wednesday, Communications Minister Mohammad-Javad Azari Jahromi warned that the ban could become permanent if Telegram refused to suspend "terrorist channels".
Telegram was one of the only social platforms not to have been blocked in Iran in recent years.
In his re-election campaign last year, President Hassan Rouhani declared that he had been responsible for ensuring that it continued to be possible to access the app, as well as Instagram and WhatsApp, during his first term in office.
And only one week before the current protests began, Mr Rouhani insisted that his communications minister would "not press the button that blocks social media".
On Saturday, Mr Jahromi sent a message via Twitter to Pavel Durov, the CEO of Telegram, asking the company to stop a channel "encouraging hateful conduct, use of Molotov cocktails, armed uprising and social unrest".
Mr Durov said calls for violence were prohibited by Telegram and within hours, the channel the minister was referring to - @amadnews - was suspended.
The decision brought sharp criticism from Iranian cyber-activists, who described Telegram's actions as "capitulation" to state censorship.
US whistleblower Edward Snowden warned Mr Durov that the Iranian authorities might not stop at requesting the suspension of a channel.
He was soon proved right, as access to the app was blocked altogether.
Mr Durov said that was because Telegram had "publicly refused to shut down channels of peaceful Iranian protesters, such as @sedaiemardom".
"We consider freedom of speech an undeniable human right, and would rather get blocked in a country by its authorities than limit peaceful expression of alternative opinions," he added.
It is clear that the government has also been under pressure from the more conservative sections of the political establishment to restrict access.
Ayatollah Makarem Shirazi, an influential cleric whose followers have used Telegram to promote his views, asked for a permanent ban on the "rotten swamp".
Iranian users turned to proxies to circumvent the ban or to using WhatsApp, which is not as popular in Iran as Telegram but still seems to be accessible.
The restrictions on social platforms announced on Sunday did not stop the protests.
People took to the streets of cities like Karaj, Khoramabad, Mahshahr, and Izeh on Tuesday night, despite assertions from officials that the unrest had ended.
Many observers have also taken to Twitter - another officially blocked social platform - to try to make sense of the protests, which have been unprecedented in terms of their geographical spread since the Islamic revolution in 1979.
Others have debated whether platforms such as Telegram have a responsibility during periods of political unrest to deal with misinformation and disinformation.
They often create an environment of false equality, some believe, where every source is just another source and the losers are people in need of accurate information.