Egypt police detained after custody death triggers protests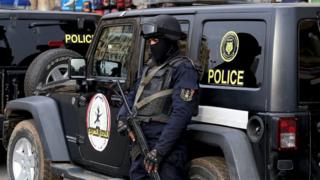 Prosecutors in Egypt's capital Cairo have ordered the detention of two police officers after the death of a prisoner triggered violent protests.
On Saturday, people tried to storm a police station in the Moqattam district where 22-year-old Mohammed Abdul Hakim was held on drugs charges.
His family say he was tortured to death there. Security sources say he fell ill while in custody and died in hospital.
He reportedly suffered internal bleeding and a ruptured spleen.
Human rights activists say Egyptian security personnel routinely torture and mistreat detainees - allegations the government has repeatedly denied.
Security sources said Mr Abdul Hakim - who was also known as Afroto - died on Friday after being arrested on suspicion of possessing drugs.
News of his death led to a protest outside Moqattam police station on Saturday, during which people attempted to storm the facility, set police vehicles on fire and threw Molotov cocktails and stones at guards.
Video appearing to show the confrontation was circulated on Twitter.
Police reportedly fired tear gas and birdshot in response and arrested 43 people.
On Monday, prosecutors extended the protesters' detention and ordered two police officers to be held for 24 hours in connection with Mr Abdul Hakim's death.
The Youm7 news website meanwhile cited the head of the Forensic Medicine Authority, Hisham Abdul Hamid, as saying prosecutors had been informed that Mr Abdul Hakim suffered "internal bleeding and a severely ruptured spleen".
Mr Abdul Hamid said the cause was not yet known but that the body bore no external signs of torture.
The head of parliament's human rights committee, Alaa Abed, told Youm7 that should the tests currently being carried out by pathologists establish any mistreatment, the interior ministry would hold those responsible to account.
The beating to death by policemen of a young man called Khaled Said helped spark an uprising in 2011 that forced President Hosni Mubarak from power.
And in early 2016, the disappearance, torture, and death of Italian PhD student Giulio Regeni, allegedly at the hands of Egyptian security services, caused a diplomatic rift between Egypt and Italy.