Israel searches West Bank after settler killed in drive-by shooting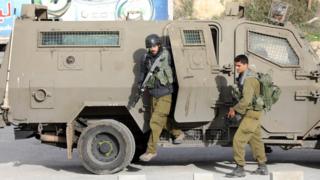 Israeli security forces are searching for a suspected Palestinian gunman or gunmen who killed an Israeli settler in the occupied West Bank on Tuesday.
Raziel Shevach, a 35-year-old rabbi and father of six, was attacked as he drove near the settlement outpost of Havat Gilad, west of the city of Nablus.
His car was reportedly hit by dozens of rounds fired from a passing vehicle.
The Israeli army sent reinforcements to the area on Wednesday and set up roadblocks near Palestinian villages.
"Entrances and exits to and from the villages surrounding Nablus will be possible only after security checks," a military statement said.
Chief of Staff Lt-Gen Gadi Eizenkot told reporters: "Our main focus at the moment is on locating and arresting the terror cell, and preventing additional attacks."
Palestinian security sources said they were so far not aware of any arrests.
Israeli media reported that shots were fired at Rabbi Shevach's car from a vehicle that overtook him as he drove along a highway near Havat Gilad, where he lived.
He sustained multiple wounds to the upper body, and was rushed to a hospital in Kfar Saba. But doctors said the injuries were too severe.
No group immediately said it was behind the shooting, but the Palestinian militant groups Hamas and Islamic Jihad praised the attackers.
Israeli Prime Minister Benjamin Netanyahu vowed that Israeli security forces would "do everything possible to reach the contemptible murderer and the State of Israel will bring him to justice".
US ambassador David Friedman wrote on Twitter that Rabbi Shevach was killed "in cold blood by Palestinian terrorists".
He also condemned Hamas for welcoming the shooting and the Palestinian Authority for providing an estimated $347m (£257m) last year in payments to the families of Palestinian militants killed or imprisoned by the Israeli authorities.
Some 51 Israelis and five foreign nationals have been killed since late 2015 in a series of gun, knife and car-ramming attacks, predominantly by Palestinians or Israeli Arabs.
Around 300 Palestinians have also been killed in that period. Most were assailants, Israel says, while others were killed in clashes with troops.
Israeli Defence Minister Avigdor Lieberman meanwhile asked officials to examine the option of retroactively legalising the Havat Gilad outpost, which is home to about 50 families.
More than 600,000 Jews live in about 140 settlements built since Israel's 1967 occupation of the West Bank and East Jerusalem - land the Palestinians claim for a future state. The settlements are considered illegal under international law, though Israel disputes this.
There are also more than 90 settler outposts - built without official authorisation from the Israeli government - across the West Bank, according to an Israeli anti-settlement watchdog.