Jordan urged to end animal mistreatment at Petra site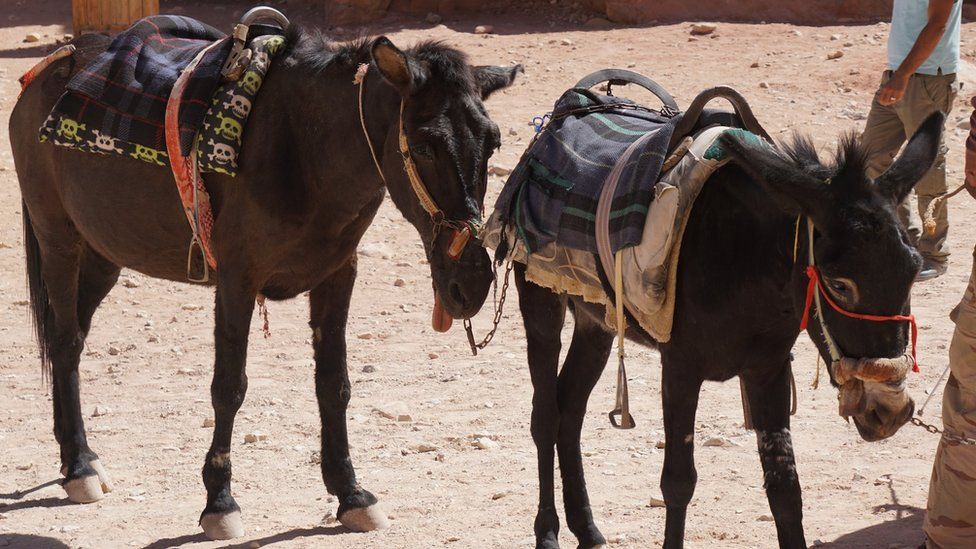 Animal rights group Peta has launched an international campaign to try to end the mistreatment of working animals in the ancient city of Petra in Jordan.
Peta says donkeys, horses and camels are beaten and forced to carry visitors in extreme heat without shade or water.
Jordanian and international groups say they are already working with the animals' owners to improve conditions.
They fear warning off tourists could prove counter-productive by depriving the animals' owners of income.
Petra is one of the wonders of the world. Carved out of rock, the sudden entrance into the ancient Nabatean city through a narrow passage is breathtaking.
It is the crown jewel of the Jordanian tourist industry. But there has long been concern about the treatment of the more than 1,300 working animals there.
Donkeys haul tourists up 900 steep and eroded steps to the Monastery, a monument miraculously built out of rock on the mountainside.
Horses, mules and camels carry tourists to the city and through it - some pulling carriages and carts - enduring beatings and lack of food and water as they do so.
Jordanian organisations and their international partners have tried to improve their conditions at the Unesco World Heritage site. But Peta says nowhere near enough has been done.
Last year, it amassed video and photographic evidence of cruelty to animals there, which showed deep wounds on many of the animals from chains and ropes tied around them.
And now it is calling on the Jordanian authorities to take decisive action.
It says the animals should be replaced by mechanised transport for tourists. It is also urging tour operators and hotels to shun the site until the abuses are stopped.
But Unesco itself told the BBC that motorised vehicles would not be desirable there.
The Princess Alia Foundation in Jordan and the international animal charity, Four Paws, said they were happy to work with any group to improve animal welfare.
But they said they had already done much to improve the conditions for horses at Petra by providing new stables and ensuring their owners have sufficient food, water and shelter - as well as lighter carriages and more animal-friendly harnesses and saddles.
They acknowledge there is more to do.
But there is a concern in Jordan that a campaign warning off tourists from Petra could be counterproductive by damaging a major income source, as well as depriving the Bedouin community that has long owned the working animals of their livelihood, which could have an even more negative impact on their welfare.
Peta though claims that only lip service has been paid to improving the lot of the animals.
For example, it says it found that a sign at Petra asking tourists to report mistreatment leads to an email address that does not reply and a website that does not work.