UN alarmed as US cuts aid to Palestinian refugee agency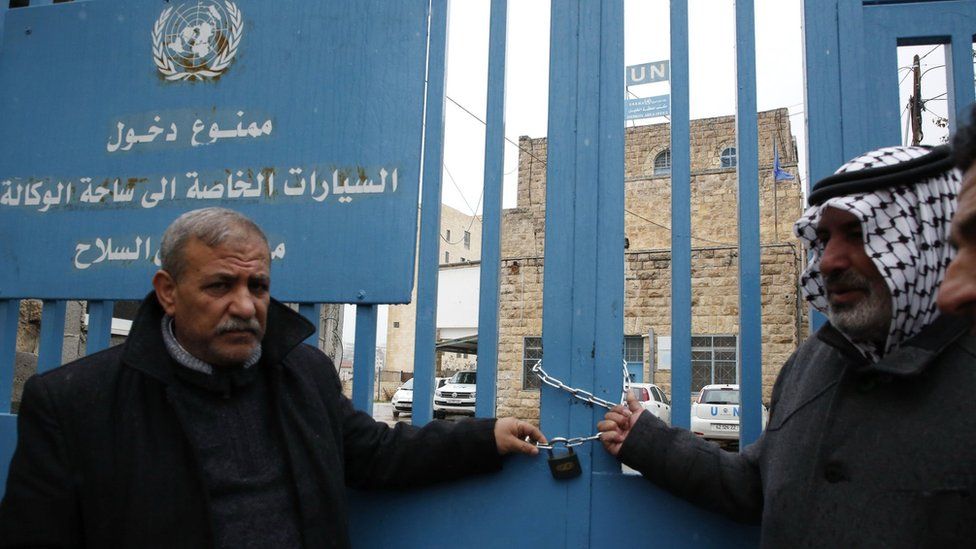 The UN has expressed serious concern at the US decision to withhold more than half of a tranche of funding for the agency supporting Palestinian refugees.
Washington will hand over $60m (£43m) of a planned payment to the UN Relief and Works Agency (Unrwa), but keep back $65m until it carries out "reforms".
UN Secretary General António Guterres said it could be forced to cut health care, education and social services.
Millions of refugees' dignity and human security were at stake, Unrwa said.
The Palestine Liberation Organisation (PLO) accused the US of "targeting the most vulnerable segment of the Palestinian people".
Why is the aid being suspended?
The US is the largest single donor to Unrwa, providing $368m in 2016 and funding almost 30% of its operations to help some five million refugees across the Middle East.
An additional $65m of funding would be "held for future consideration" but not cancelled, she said.
Ms Nauert explained that the US would "like to see some revisions made in how Unrwa operates", to ensure that the money was "best spent" so that people got the services they needed.
She did not mention whether US bilateral aid to the Palestinians was also at risk. That amounted to $260m in 2016, with much of the money going towards projects administered by the US Agency for International Development (USAid).
By contrast, Israel receives more than $3bn in military aid per year from the US.
What impact could this have?
Unrwa Commissioner-General, Pierre Krähenbühl, warned that the agency was "now confronted with the most dramatic financial crisis" in its 69-year history.
"Given the long, trusted, and historic relationship between the United States and Unrwa, this reduced contribution threatens one of the most successful and innovative human development endeavours in the Middle East," he said.
He called on other UN member states to increase their contributions in response.
"At stake is the access of 525,000 boys and girls in 700 Unrwa schools, and their future," he said.
"At stake is the dignity and human security of millions of Palestine refugees, in need of emergency food assistance and other support in Jordan, Lebanon, Syria, and the West Bank and Gaza Strip.
"At stake is the access of refugees to primary health care, including pre-natal care and other life-saving services."
What do the Palestinians say?
Hanan Ashrawi, a member of the PLO's executive committee, accused the Trump administration of seeking to "dismantle" Unrwa at Israel's behest.
The BBC is not responsible for the content of external sites.
"This administration is thereby targeting the most vulnerable segment of the Palestinian people and depriving the refugees of the right to education, health, shelter and a dignified life," she said.
"It is also creating conditions that will generate further instability throughout the region and will demonstrate that it has no compunction in targeting the innocent."
Israeli Prime Minister Benjamin Netanyahu - who has called for Unrwa's funding to be cut gradually and its responsibilities transferred to the UN's global refugee agency, the UNHCR, arguing that it "perpetuates the Palestinian problem" - expressed measured support on Wednesday.
Asked by reporters during a visit to India if he welcomed the US move, he replied: "Of course, but I still suggest, because I think there are certain needs, to do what I have said... every step taken also contains some risk."
Some observers in Israel have warned it might have to deal with a humanitarian crisis if Unrwa was forced to halt operations in the Palestinian territories.