Syria war: Rebel shellfire kills nine in Damascus Old City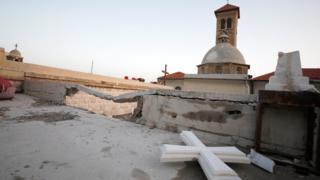 Nine civilians, including a three-year-old child, were killed by mortars fired by rebel fighters at the Syrian capital Damascus on Monday, state media say.
Another 21 people were wounded in the attack on Bab Touma, a predominantly Christian district of the Old City.
Police said the shellfire came from the Eastern Ghouta, a besieged rebel-held region on the outskirts of the city.
Rebels there have stepped up their shelling in recent months in response to attacks by pro-government forces.
The UK-based Syrian Observatory for Human Rights reports that at least 60 people living in government-controlled areas of Damascus have been killed as a result of the rebel bombardment since mid-November.
In the same period, more than 350 people have been killed in government air and artillery strikes on the Eastern Ghouta, according to the monitoring group.
The Syria Civil Defence, whose first responders are known as the White Helmets, said on Monday that one civilian had been killed and six others injured in air strikes on the town of Arbin, and that many more civilians were injured in al-Marj.
It also reported that more than 20 people had suffered breathing problems after missiles believed to have been filled with chlorine hit residential areas of Douma.
About 400,000 people in the Eastern Ghouta have been under siege by government forces since 2013, and are running short of food, fuel and medicines.