Russian jet shot down in Syria's Idlib province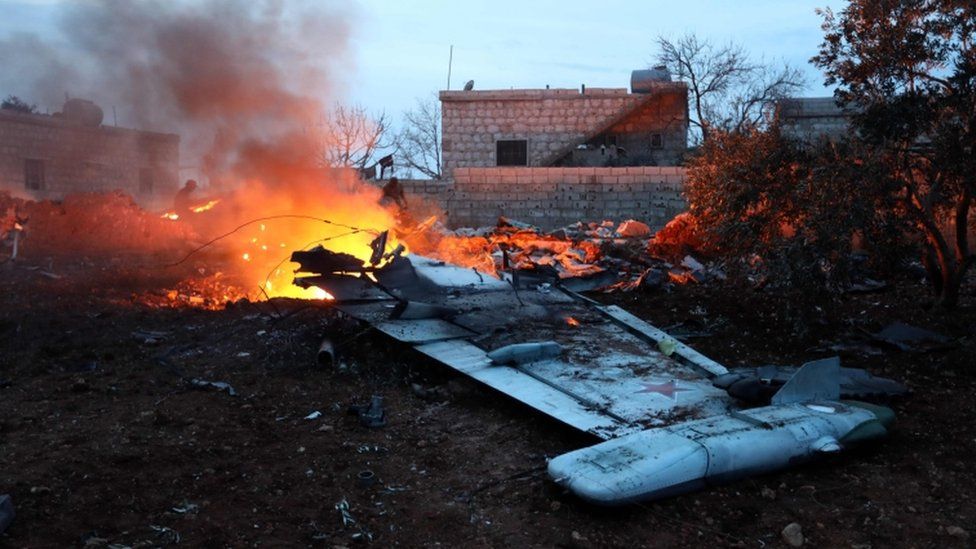 A Russian Sukhoi-25 ground-attack aircraft has been shot down in a rebel-held area in Syria's north-western province of Idlib.
The Russian defence ministry said the pilot had ejected into an area believed to be controlled by the jihadist Hayat Tahrir al-Sham alliance.
Although he survived the crash he was killed in a ground fight, Moscow said.
Hayat Tahrir al-Sham - formerly linked to al-Qaeda - said it had shot down the plane.
The Syrian government, backed by Russian air power, launched a major offensive in December against rebel groups in Idlib.
What more do we know of the incident?
The Sukhoi-25, a close-support ground-attack aircraft, was operating over the town of Maasran in Idlib.
There had been dozens of Russian air strikes in the area over the previous 24 hours, monitoring groups said.
Video posted on social media showed the jet being hit and quickly catching fire, before spiralling to the ground.
Video from the ground showed the wreckage with red stars on the wings.
Russia's defence ministry said: "The pilot had enough time to report that he had ejected in an area controlled by the militants".
"During a battle with terrorists, the pilot was killed."
Other video on social media showed a bloodied body in a uniform.
In a statement released on social media, the Hayat Tahrir al-Sham group claimed it had shot down the plane using a shoulder-launched surface-to-air missile.
The group said the plane had been carrying out an air raid over the nearby city of Saraqeb.
Hayat Tahrir al-Sham has operated in the region for years under a series of different names.
How are the Russians responding?
The defence ministry said it was making all possible efforts to retrieve the body.
However, social media posts also reported a salvo of cruise missiles had been fired into Idlib province from Russian navy vessels in the Mediterranean.
The Russian defence ministry confirmed only that "a series of high-precision weapons strikes has been delivered on the area".
Very. It could be the first time rebels have shot down a Russian jet since Moscow began its Syria campaign in September 2015, although rebels did bring down a helicopter in 2016.
About 45 Russian military personnel have been confirmed dead in Syria, along with an unknown number of contractors.
Here are the air force losses:
What's going on in Idlib?
It is supposed to be a "de-escalation zone", as agreed by Turkey, Russia and Iran. But fighting escalated in November and the Syrian government launched a major offensive there in December.
Hayat Tahrir al-Sham is the main adversary.
There are 2.65 million people in north-western Syria as a whole, the UN says, and 1.16 million of them are internally displaced people (IDPs).
Is this the only fighting in north-west Syria?
No. Turkey launched an operation on 20 January called "Olive Branch" aimed at removing Kurdish militiamen from Afrin, to the north-west of the city of Aleppo.
The Turkish army said seven Turkish soldiers were killed in action on Saturday, including five who died in an attack on a tank by the Kurdish YPG (People's Protection Units) militia.
It was heaviest Turkish death toll in one day since the operation began.