Israeli man stabbed to death at West Bank settlement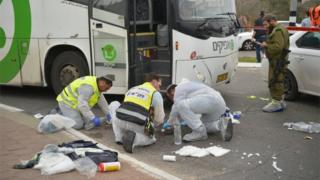 An Israeli man has been stabbed to death outside a Jewish settlement in the occupied West Bank, in what Israeli police say was a terrorist attack.
The victim, Rabbi Itamar Ben Gal, was attacked at a bus stop near Ariel.
Israeli security forces are searching for an Israeli Arab suspect, initially identified by police as Palestinian.
Israeli troops meanwhile have killed a Palestinian who they say shot dead a rabbi as he drove near Havat Gilad outpost in the West Bank last month.
Ahmad Jarrar was shot when security forces raided his hideout in al-Yamoun village near Jenin in the northern West Bank on Tuesday, Israeli media said.
Jarrar is suspected of killing Rabbi Raziel Shevach, a father of six, in a drive-by shooting on 9 January.
The Israeli cabinet backed a plan to retroactively legalise Havat Gilad, an unauthorised settlement, in response to the murder.
CCTV footage of Monday's attack shows Rabbi Ben Gal, a 29-year-old father of four from the settlement of Har Bracha, waiting on a roadside when another man crosses the road and stabs him in the chest.
The Israeli military said a soldier had pursued the suspect in his vehicle and hit him after witnessing the incident, but that he managed to escape.
Israeli officials confirmed media reports which named him as 19-year-old Abed al-Karim Adel Asi, whose mother is an Israeli Arab from Haifa, and whose father is a Palestinian from Nablus in the West Bank.
Israeli Prime Minister Benjamin Netanyahu vowed to catch the attacker.
"We will bring him to justice, as we always do. I put my trust in the security forces who do the hardest work against these reprehensible attacks," he said.
No group immediately said it was behind the attack. But the militant Palestinian Islamist movement Hamas called it a "continuation of the resistance" to the controversial US decision to recognise Jerusalem as Israel's capital.
The attack is the latest in a wave of stabbings, shootings and car-rammings against Israelis, predominantly by Palestinians or Israeli Arabs, since late 2015.
At least 52 Israelis and five foreign nationals have been killed.
Some 300 Palestinians - most of them assailants, Israel says - have also been killed in that period, according to AFP news agency. Others have been killed in clashes with Israeli troops.
Israel has previously said it intends to keep Ariel and some other large settlements blocs in any final peace agreement with the Palestinians. The Palestinians want all the settlements, built on land they claim for a future state, removed.
More than 600,000 Jews live in about 140 settlements built since Israel's 1967 occupation of the West Bank and East Jerusalem. The settlements are considered illegal under international law, though Israel disputes this.
There are also some 100 outposts - small settlements built without the government's authorisation.
Last year, the Israeli parliament passed a law allowing for the retroactive legalisation of 55 of them, including in some circumstances those built on private Palestinian land, whose owners would be compensated.