Syria war: UN calls for truce as government pounds rebel enclave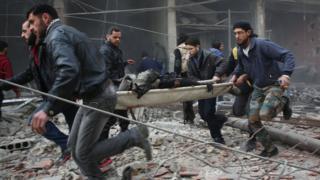 The UN has appealed for an immediate ceasefire in Syria, as the government intensified its bombardment of a besieged rebel enclave near Damascus.
UN officials said they needed at least a month to deliver aid to conflict zones and evacuate the critically ill.
Their call came as air strikes reportedly killed 80 people in the rebel-held Eastern Ghouta on Tuesday.
UN war crimes experts also said they were investigating reports of bombs containing chlorine being used there.
Medics, opposition activists and Western powers say government forces have used the toxic chemical in six attacks in the past 30 days in the Eastern Ghouta and the town of Saraqeb, in the rebel-held north-western province of Idlib.
The government has dismissed the reports as "lies", but the head of the UN's International Commission of Inquiry on Syria called them "alarming".
Paulo Pinheiro also said the "scale and ferocity" of the government's attacks on the Eastern Ghouta, where 400,000 people have been trapped since 2013, and Idlib had "increased dramatically" in the past 48 hours.
The Syrian Observatory for Human Rights (SOHR), a UK-based monitoring group, said at least 30 people were killed in strikes in the Eastern Ghouta on Monday.
Another 78, including 19 children, died in fresh attacks on Tuesday, it added, including suspected ground-to-ground missile strikes on the towns of Douma and Harasta.
The Syria Civil Defence, whose rescue workers are commonly known as the White Helmets, put the death toll at more than 80.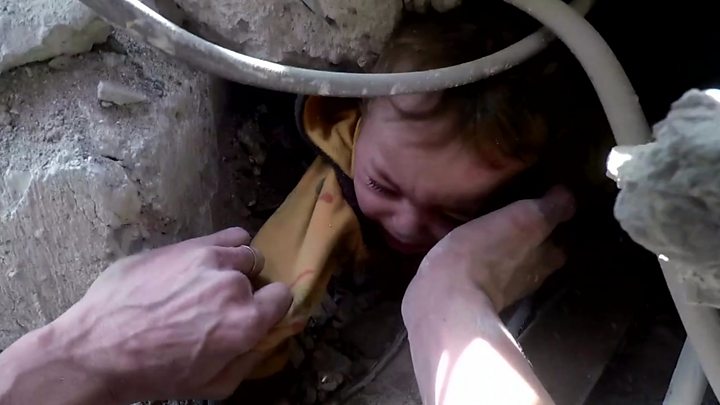 "Today there is no safe area at all," Siraj Mahmoud, the head of the organisation in Damascus Countryside province, told Reuters news agency. "Right now, we have people under rubble. The targeting is ongoing, warplanes on residential neighbourhoods."
One resident told the BBC it was the heaviest bombardment he had experienced since the start of the civil war in 2011.
The SOHR and state media also said that shells fired by rebels in the Eastern Ghouta had killed three people in government-held parts of Damascus.
The UN's humanitarian co-ordinator for Syria and other UN representatives warned in a joint statement that the situation in the enclave and other conflict areas was "extreme", and urged all parties to agree to a cessation of hostilities.
"If there was a sufficiently long pause in hostilities, medical evacuations and humanitarian convoys could resume in East Ghouta, saving the lives of hundreds who need urgent medical attention, including many critically ill children," they said.
Another six people were reportedly killed in government air strikes on Idlib.
On Sunday night, 17 people from Saraqeb presented symptoms consistent with exposure to chlorine gas, including breathing difficulties, according to the Union of Medical Care and Relief Organizations (UOSSM).
Activists said the town was struck by two barrel bombs dropped by helicopters.
UOSSM also reported that hospitals in Maarat al-Numan, Kafranbel and Tal Mardikh had been targeted in air strikes since Sunday and taken out of service.
Government forces, which are backed by Russia and Iran, launched an offensive to retake Idlib in late October. But they stepped up their attacks on the province over the weekend after al-Qaeda-linked jihadists shot down a Russian Su-25 warplane, in an incident in which the pilot was killed.
The UN officials said civilians in Idlib were being forced to move repeatedly to escape fighting, and warned that the province - home to 1.16 million displaced people - might not be able to withstand the consequences of continued conflict.