Who were the jihadists nicknamed the Islamic State 'Beatles'?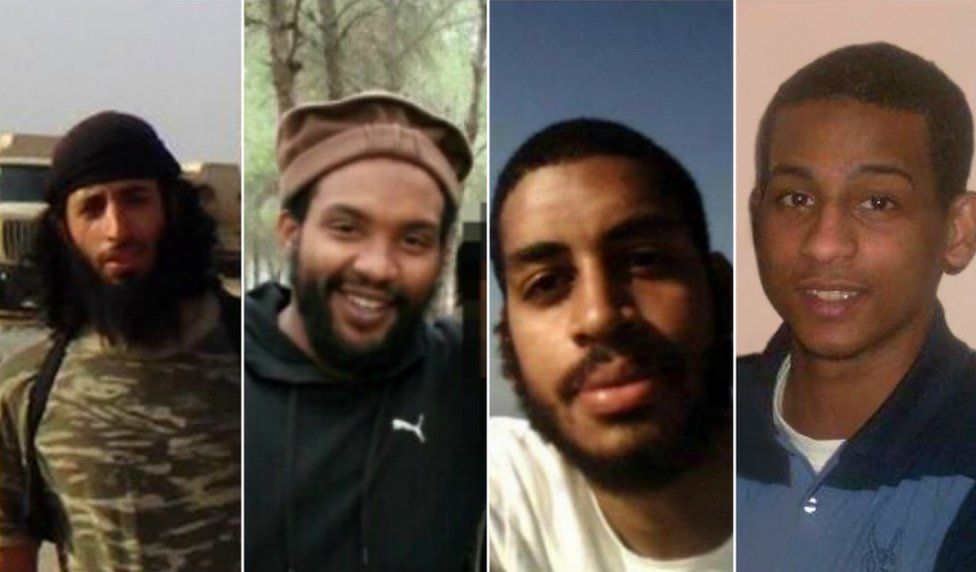 A member of a notorious Islamic State cell which murdered hostages has been sentenced to life imprisonment in the US.
Alexanda Kotey, who pleaded guilty to hostage-taking and conspiracy to murder, was part of a cell nicknamed the IS "Beatles" because of their British accents.
What were the IS 'Beatles' responsible for?
The four members - who all grew up in west London - volunteered to fight for the Islamic State group in Syria and ended up guarding Western hostages.
US authorities say the group beheaded 27 hostages. Videos of the murders were sent around the world, causing outrage.
Hostages also recall the group torturing with electric shocks, waterboarding and mock executions.
Who were the members of the IS cell?
Three are still living - Alexanda Kotey, El Shafee Elsheikh and Aine Davis.
Mohammed Emwazi, who was nicknamed Jihadi John, was killed in Syria, in 2015.
Kotey pleaded guilty to eight criminal charges including lethal hostage-taking and conspiracy to support terrorists.
He admitted involvement in the deaths of four Americans - journalists James Foley and Steven Sotloff and aid workers Kayla Mueller and Peter Kassig.
These offences carry the death penalty - but US authorities have told Britain they will not execute Kotey, who is 38.
Instead, he faces life imprisonment. He has been stripped of his British citizenship.
Living in west London, Kotey - who is of Ghanaian and Greek Cypriot background - had attended the al-Manaar mosque with Mohammed Emwazi.
He was captured in Syria by Kurdish forces, alongside El Shafee Elsheikh.
The cell is also blamed for the deaths of British aid workers David Haines and Alan Henning, and Japanese journalists Haruna Yukawa and Kenji Goto.
The son of Sudanese refugees who came to Britain, Elsheikh, went to Syria in 2012 and joined al-Qaeda before signing up with IS.
Hostages called him Jihadi George and say as the main guard, he carried out most of the torture.
Elsheikh was captured by the Kurdish-led Syrian Democratic Forces, in January 2018, as they overran the last pieces of IS-controlled territory in Syria.
He was stripped of his British citizenship in 2018.
Emwazi, dubbed Jihadi John, fronted an number of videos showing executed hostages.
Born in Kuwait, his family moved to the UK when he was six years old, in 1988. He studied computer programming at the University of Westminster, graduating in 2009.
Throughout 2014, Emwazi was shown, with his face disguised, in a number of videos where Western hostages appeared to be beheaded.
Davis, who lived in Hammersmith, had a number of drug convictions and was jailed in 2006 for possessing a firearm.
After converting to Islam, Davis changed his name to Hamza and met Emwazi. The two were part of a group that radicalised Muslims living in London. Davis left the UK to join IS in 2013.
Davis was arrested near Istanbul in 2015 and in 2017 he was convicted by a Turkish court of being a senior member of a terrorist organisation.
At his trial, Davis admitted knowing Mohammed Emwazi from praying in the same mosque in west London, but denied being his friend, or a member of the "IS Beatles" group.
He was sentenced to seven and a half years in prison.