Afrin offensive: Turkey warns Syria against helping Kurds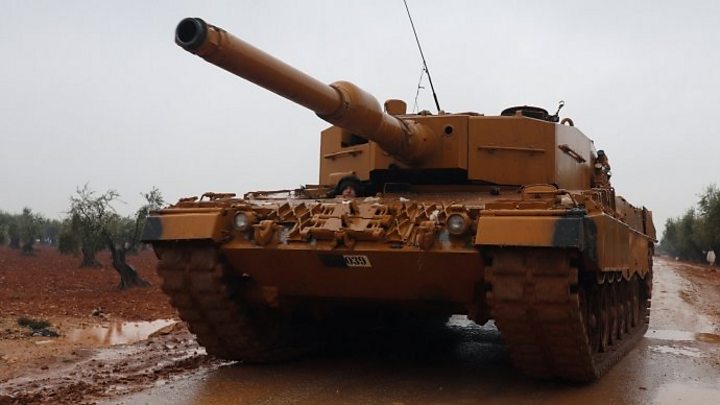 Turkey has warned the Syrian government not to help Kurds fighting against Turkish forces in northern Syria.
Deputy Prime Minister Bekir Bozdag said Turkey's operations were going ahead as planned and it would be a "disaster" if Syrian troops were to intervene.
Syrian media had earlier said the army would help Kurds resist Turkish operations in the enclave of Afrin.
But there has been no sign of this so far, and the Kurdish YPG militia has denied there is a deal with Damascus.
Turkey regards the Kurdish fighters, just across its border in Afrin, as terrorists. It launched a major offensive against them last month.
President Recep Tayyip Erdogan told Russia's Vladimir Putin that Damascus would face "consequences" if it struck a deal with the Kurds, CNN Turk reported on Monday.
Both Mr Bozdag and Foreign Minister Mevlut Cavusoglu delivered a similar message later in the day.
"If [the Syrian army] comes in to defend the YPG, then nothing and nobody can stop Turkish soldiers," Mr Cavusoglu told reporters in Jordan.
Mr Erdogan, Mr Putin and Iranian President Hassan Rouhani are planning to meet in Turkey in April to discuss the situation in Syria, a Kremlin spokesperson said.
Elsewhere in Syria, pro-government forces were also reported to be preparing a ground assault on the rebel-controlled Eastern Ghouta area, on the edge of Damascus.
Syrian activists said dozens of civilians had been killed over the past 24 hours in government attacks, in one of the deadliest days in the Eastern Ghouta since Syrian forces stepped up their campaign to retake it earlier this month.
What has purportedly been agreed?
On Monday Syrian state Sana news agency said "popular forces" would arrive in Afrin "to support its people's stand against the Turkish regime's attack".
A senior Kurdish official, Badran Jia Kurd, told Reuters news agency that government soldiers would deploy to some border positions.
But later YPG spokesman Nouri Mahmoud said: "There is no agreement. There is only a call from us for the Syrian army to come in and protect the borders."
If a deal were to be struck, Turkish troops could find themselves confronting not only Kurdish fighters in Afrin, but the Syrian army too, correspondents say.
Why has Turkey targeted Afrin?
Turkey began its cross-border offensive - which it has dubbed operation Olive Tree - in January.
It is trying to oust the People's Protection Units (YPG), the armed wing of the Kurdish Democratic Union Party (PYD).
The Kurds have administered semi-autonomous enclaves south of the Turkish border since Syrian forces pulled out in 2012, and the YPG has taken control of other territory after driving out Islamic State (IS) fighters.
Turkey sees the YPG as an extension of the banned Kurdistan Workers' Party (PKK), which has fought for Kurdish autonomy in Turkey for three decades.
The YPG denies any direct military or political links with the PKK.
What is the cost of the Afrin conflict so far?
Thousands of civilians have fled since Turkey's offensive began just over a month ago.
Neither side has released much information about fatalities, making the death toll difficult to gauge.
Kurdish media reported intensified Turkish air and artillery attacks in the region on Monday.
A child was killed and eight other civilians were injured in shelling of Basute village, according to the Kurdish Hawar News Agency (ANHA).
Turkey has said it is targeting only combatants, not civilians.
What role could the Syrian government take?
Syria has not had a military presence in the Afrin area for nearly six years.
During the course of the Syrian war, pro-government forces have largely avoided direct conflict with the YPG, but they have had sporadic clashes.
The government of President Bashar al-Assad opposes the YPG's demands for autonomy and has vowed to retake control of all Syrian territory. However the two sides are united in wanting to block Turkey's advances.
From the Kurdish perspective, Mr Jia Kurd said: "We can co-operate with any side that lends us a helping hand in light of the barbaric crimes and the international silence."
Who is aligned with whom?
Northern and north-western Syria hosts a complex mix of alliances between different international and regional players.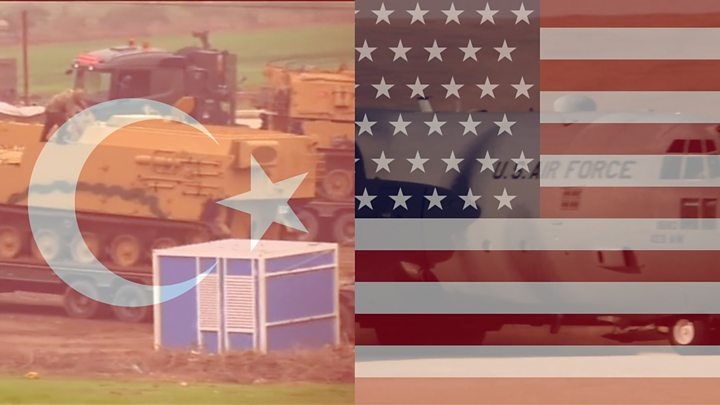 The situation is further complicated by the YPG receiving funding from Turkey's Nato ally the United States, as partners in the fight against IS.
Turkey has supported rebels fighting Syrian government forces since the civil war began in 2011, but there has been no direct confrontation between the two powers since Syria shot down a Turkish fighter plane in 2012, killing two crew.