Gaza women's TV channel blocked by Hamas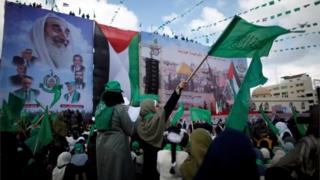 Authorities in Gaza have blocked the launch of a women's television channel there, just before it was due to go on air.
Officials from the Palestinian militant Islamist group Hamas, which dominates the territory, said Taif TV had not obtained the necessary licences.
However the channel said it had met all the legal requirements.
Civil liberties groups have long criticised Hamas for what they say is a poor record on women's rights in Gaza.
The Palestinian independent Maan news agency said Hamas had on Sunday banned a launch party for the channel, after which it was meant to begin broadcasting.
The Hamas-run Ministry of Information said Taif TV did not have legal permission, despite being repeatedly informed of the need for relevant licences.
"The management of the channel was asked to settle their legal status, to obtain licences to start work and were notified of another licensed media organisation of the same name," the ministry said.
The channel denied this was the case, saying it belonged to media organisations which had both been licensed by the Ministry of Information and Ministry of Economy.
"Therefore, they are legal to do their media production work and use social media platforms," it said in a statement.
"That does not violate Palestinian law and is part of the basics of free media activity."
'Our idea will remain'
Taif TV says it is the first channel of its kind and aims to "shed light on Palestinian women as an integral part of the social fabric, and the role of women in building society".
In a video on its Facebook page, the channel's manager is seen thanking a crowd of people outside its building for "believing in Taif's ideas.
"Our idea will remain and we will keep working on it," he says.
Hamas has long been accused of discriminating against women since it reinforced its hold on power in Gaza after ousting its secular Fatah rivals in 2007.
The Islamist group won Palestinian parliamentary elections the previous year. It agreed last year to hand administrative control in Gaza to a unity government but implementation of the deal has faltered.