Iran plane crash wreckage found on mountainside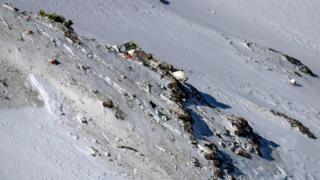 Search teams in Iran have found the wreckage of a passenger plane that crashed on Sunday.
The Aseman Airlines flight came down in the Zagros mountains in the west of the country and all 66 people on board are feared to have died.
Rescuers travelled to the wreckage on foot after a helicopter was unable to land on the snowy mountainside.
Earlier, state TV aired helicopter footage showing scattered wreckage of the plane.
The head of the country's emergency services said moving the bodies of those who had died would prove difficult in the bad weather conditions.
The army's commander-in-chief said military equipment could be used for this.
The Revolutionary Guards, a powerful part of the armed forces, said the wreckage had been found through drone images before the air force's helicopters were deployed.
Ageing aircraft fleet
A pilot told state broadcaster IRIB that he had seen "scattered bodies around the plane" and that it was located at about 4,000m (13,000ft) altitude.
Heavy winds, fog and snow caused the search to be called off on Sunday and helicopters to be grounded on Monday.
But Tuesday's weather was better, allowing helicopter pilots to see more.
The ATR 72-500 twin-engine turboprop was travelling from Tehran to the south-western city of Yasuj.
Flight EP3704 left Tehran at 04:30 GMT on Sunday, and crashed about an hour later in the Mount Dena area, about 22km (14 miles) from its destination.
The crashed plane was 25 years old, Iran's civil aviation organisation said.
Sixty passengers, two security guards, two flight attendants and the pilot and co-pilot were on board.
Iran has suffered several aviation accidents in recent years and has an ageing aircraft fleet.
The country has struggled to obtain spare parts to maintain its planes in the face of international sanctions imposed to curb its nuclear programme.
Those sanctions have been mostly lifted under a 2015 deal between Iran and the US alongside several other powers.