Jerusalem: Christianity's 'holiest site' closed in protest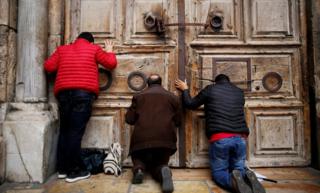 Christian leaders in Jerusalem have taken the rare step of shutting the Church of the Holy Sepulchre in protest against a new Israeli tax policy and a proposed property law.
Church leaders have described the legislation as an attack on Christians in the Holy Land.
Supporters of the bill though say the concerns are unfounded.
Many Christians believe Jesus was crucified, buried and resurrected on the site of the church.
It is considered Christianity's holiest place and is a key destination for pilgrims.
Why are Church leaders angry?
In a joint statement, Roman Catholic, Greek Orthodox and Armenian Church leaders said the church would be closed until further notice.
The protest was launched because Church officials object to a bill the Israeli government is considering, which they fear would let the state claim church-owned land.
Branding the bill "abhorrent", the leaders said it "reminds us all of laws of a similar nature which were enacted against the Jews during a dark period in Europe".
Supporters of the bill say it is meant to protect Israelis living on former Church land sold to private developers from the risk these companies will not extend their leases.
Christian leaders say the proposed law would make it harder to sell Church land, a key source of funds.
They are also angry about attempts to tax Church property which authorities in Jerusalem view as commercial.
Jerusalem Mayor Nir Barkat has said the city is owed 650m shekels ($186m; £133m) in uncollected taxes on Church assets.
He said all churches were exempt from the tax changes, and that only Church-owned "hotels, halls and businesses" would be affected.
Has the Israeli government responded?
After the protest, an Israeli cabinet committee delayed its consideration of the property bill by a week.
The legislator promoting the bill, Rachel Azaria, told the BBC: "I understand that the Church is under pressure, but their lands will remain theirs, no-one has any interest to touch them ever.
"My bill deals with what happens when the right over the lands are sold to a third party."
Ms Azaria said that only land sold by the Church to private real estate firms after 2010 would be affected.