Rescued Middle East lions move into new S Africa home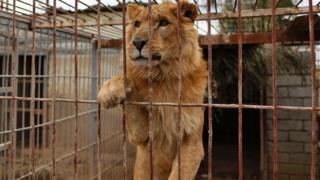 Two African lions rescued from abandoned zoos in war-torn Iraq and Syria have been transferred to their new home in South Africa.
After months of rehabilitation in Jordan, Simba and Saeed arrived safely at Lion's Rock, a big cat sanctuary in Free State province on Monday.
The young lions were picked up last year from the conflict-ravaged cities of Mosul in Iraq and Aleppo in Syria.
They will be slowly introduced to Lion's Rock, their handlers say.
The rescued lions were trained for weeks in preparation for their unsedated, 33-hour journey by plane and truck to the 1,250 hectare sanctuary.
As the lions are young, aged two and four, their handlers decided to relocate them so they could meet lionesses and start their own prides.
'Gem of a lion'
Four-year-old Simba was one of two animals found still alive despite appalling conditions in a private zoo in Mosul last February. Most of the others died of starvation or were killed by bombs.
"Simba's mother actually ate his father," Diana Bernas, head animal keeper at al-Ma'wa Animal Sanctuary in Jordan, to the BBC. "He's witnessed a lot of trauma in Iraq."
Simba was "very shy" when he first came into her care, Ms Bernas says. "He likes to sit at the back until he figures everyone out."
Two-year-old Saeed, on the other hand, was "a happy-go-lucky guy, so a gem of a lion", she adds. "His name means happy in Arabic, so it's bittersweet to let him go."
He was one of 13 animals rescued from a derelict park near Aleppo. Born at the height of Syria's civil war, Saeed was "skin and bones" when he arrived in Jordan in July.
After months of care to help the emaciated and traumatised lions, the international animal welfare charity Four Paws decided it was time to transfer the now healthier and happier Simba and Saeed to South Africa.
"With 78 other lions, we are confident Simba and Saeed will find themselves a pride and a happy ending to their chaotic upbringing," said Fiona Miles of Four Paws in South Africa.