Egypt's Sherine sentenced to prison over Nile joke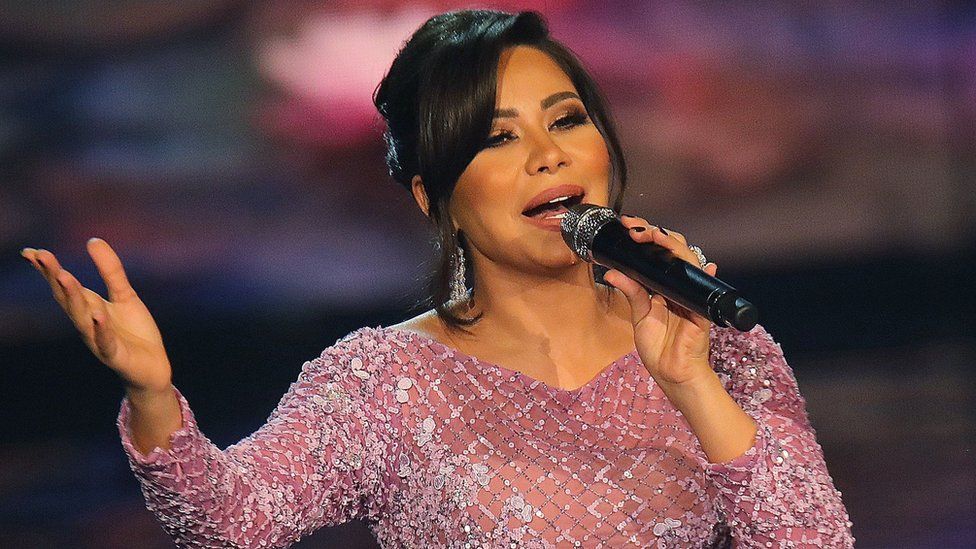 Egyptian singer Sherine Abdel Wahab has been sentenced to six months in prison for joking about the cleanliness of the River Nile.
Sherine, one of the country's most famous singers - and a judge on the Arabic version of The Voice TV show - told a fan that drinking from the famous river might give them parasites.
"Drink Evian instead," she joked.
Another singer, Laila Amer, was also sentenced on Tuesday to two years in prison over a music video.
Ms Amer - who is not as well known as Sherine - was found guilty of "inciting debauchery and immorality". The director and another actor were sentenced to shorter terms.
Sherine, meanwhile, has been convicted by a Cairo court of spreading false news. Egyptian news outlet Ahram said she was ordered to pay 5,000 Egyptian pounds (£204) as bail, in addition to a fine of 10,000 pounds and remains free until her case is concluded.
Both cases remain open to appeal.
The lawsuit against Sherine was filed in November, after a video emerged online showing her being asked to sing Mashrebtesh Men Nilha (Have You Drunk From The Nile?)
She responded by saying "drinking from the Nile will get me schistosomiasis" - a disease commonly known in Egypt as bilharzia, which once plagued rural water sources.
On top of the legal case against her, the Egyptian Musicians Syndicate announced that it had banned her from performing over her "unjustified mockery of our dear Egypt".
"My beloved country Egypt and sons of my country Egypt, I apologise to you with all my heart for any pain I may have caused you," she added.
Schistosomiasis was widespread throughout much of Egypt's history, having been discovered in mummified remains from thousands of years in the past. Health programmes in the last century, however, have greatly reduced its prevalence.
It is caused by a parasitic worm that lives in fresh water in subtropical and tropical regions, growing inside the human body.
Its name is an apparent pun on an Arabic profanity.
The video showed Amer dancing and making suggestive gestures - something the lawyer who filed the complaint called a "great risk" to Egypt and "an attack on society".
News agency EFE reported that Amer's defence in court was that she had simply followed instructions from the director and producer.
The director was sentenced to six months in prison, while another man appearing in the video alongside Amer received a three-month sentence.
Tuesday's rulings bring to three the number of female artists handed prison sentences in recent months.
She was found guilty of inciting debauchery and publishing an indecent film, and was sentenced alongside the video's director.
Before her imprisonment, she apologised to anyone who took the video for the song, I Have Issues, "in an inappropriate way".
Her sentence was reduced to one year on appeal.