Jerusalem: Christianity's 'holiest site' Holy Sepulchre reopens after protest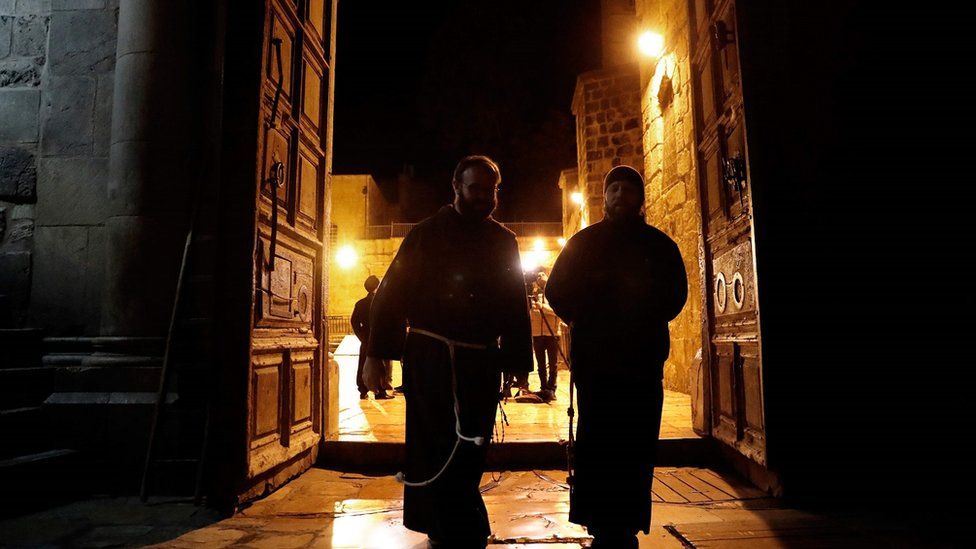 The Church of the Holy Sepulchre in Jerusalem has reopened, three days after Christian leaders closed it in protest at plans to tax Church properties in the city.
Leaders had said the church would be closed indefinitely.
Jerusalem's Mayor Nir Barkat suspended the tax plans on Tuesday.
The church is widely regarded as Christianity's holiest place. Many Christians believe Jesus was crucified, buried and resurrected on the site.
It is shared by the Greek Orthodox, Roman Catholic, Armenian Orthodox, Syriac Orthodox, Egyptian Copt and Ethiopian Orthodox denominations of Christianity.
Israeli Prime Minister Benjamin Netanyahu said on Tuesday there would be negotiations to try to resolve the dispute, prompting the mayor to suspend changes.
Christian leaders released a statement in response, thanking God and offering "gratitude to all those who have worked tirelessly to uphold the Christian presence in Jerusalem".
Gatekeepers at the church were seen reopening its large wooden doors at about 04:00 local time (02:00 GMT) on Wednesday.
Pilgrims started to arrive soon afterwards.
Mr Barkat has said the city is owed 650m shekels ($186m; £133m) in uncollected taxes on Church assets, and that Church-owned "hotels, halls and businesses" - but not worship buildings - would be taxed.
Church officials also objected to a bill the Israeli government was considering, which they feared would let the state claim Church-owned land.
Branding the bill "abhorrent", Christian leaders released a joint statement saying it reminded them "of laws of a similar nature which were enacted against the Jews during a dark period in Europe".
But the Israeli government has said the law will be shelved while a committee looks into it.
Supporters of the bill say it is meant to protect Israelis living on former Church land sold to private developers from the risk that these companies will not extend their leases.
Christian leaders say the proposed law would make it harder to sell Church land, a key source of funds.