Insulting Egyptian security forces is high treason, says Sisi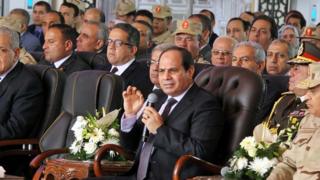 Egypt's President Abdul Fattah al-Sisi has said he considers any insult of its security forces to be "high treason", in an apparent warning to the media.
"If someone insults the army or police they're defaming all Egyptians and that's not freedom of opinion," he said during a visit to the town of Alamein.
Mr Sisi's comments came after the government complained about recent foreign media coverage of the country.
On Tuesday, the State Information Service demanded the BBC apologise over a report it said contained "absolute falsification and fabrication".
The report detailed allegations of torture and enforced disappearances by security forces since 2013, when Mr Sisi led the military's overthrow of Islamist President Mohammed Morsi following mass protests against his rule.
It included an interview with a mother who said her daughter had been detained last April and that she had not seen or heard from her since.
On Monday, the daughter appeared on an Egyptian talk show and denied that she had been detained or mistreated by security personnel.
The mother told a pro-Muslim Brotherhood TV channel based in Turkey on Tuesday that her daughter had been "forced under torture" to appear on the talk show. "I insist on what I said to the BBC; this is the truth," she added.
On Wednesday, Ezzat Ghoneim - a lawyer familiar with her case - said that the mother had been arrested. Officials have not commented on the lawyer's claim.
The BBC said that it "stands by the integrity of its reporting teams and that it will be discussing the complaint with Egyptian authorities in the coming days".
Human rights groups say there has been a crackdown on opposition ahead of a presidential election later this month in which Mr Sisi will stand virtually unopposed.