Syria war: Pro-Assad forces recapture 10% of Eastern Ghouta, monitors say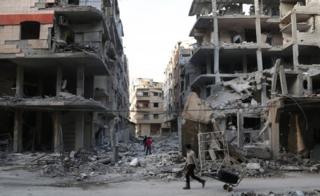 Pro-government forces in Syria have reportedly recaptured about 10% of the rebel-held Eastern Ghouta enclave.
The Syrian Observatory for Human Rights, a UK-based monitoring group, says fighting on the ground intensified there on Saturday. Rebels responded by shelling nearby Damascus.
Some 393,000 people are trapped in the Eastern Ghouta, which has been besieged by the government since 2013.
Food and medical stocks are dwindling, and aid trucks are unable to get in.
Syria's military says it is trying to liberate the region, one of the last rebel strongholds, from those it terms terrorists. But it has also been accused of targeting civilians.
More than 640 people have been killed since 18 February, more than 150 of them children, AFP news agency reports.
More than 100 civilians have died since the UN Security Council called for a 30-day ceasefire a week ago. UN Secretary General António Guterres has said the local population is living in "hell on earth".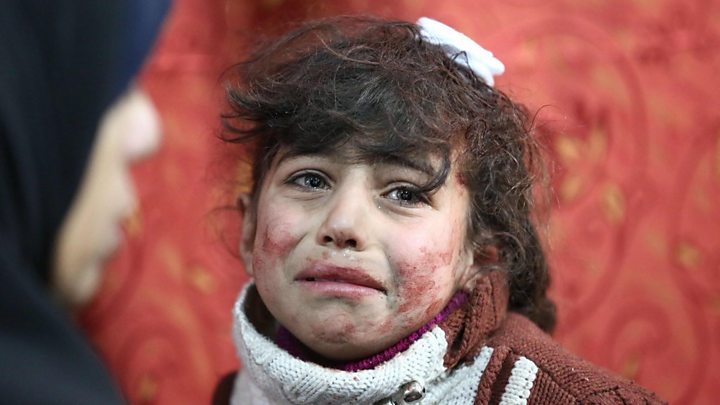 A daily five-hour "humanitarian pause" ordered by Russia, the Syrian government's ally, has failed to stop the bloodshed.
Moscow has offered civilians in the Eastern Ghouta safe passage during the pauses, but the Syrian Observatory says none have departed since Tuesday.
Russia's military said in a statement that no civilians had used the prescribed exit route on Saturday.
In northern Syria, on a different front of the country's seven-year civil war, Turkey says it has captured a Kurdish town in the northern region of Afrin.
At least 36 pro-Syrian government troops - sent to support Kurdish forces - are said to have died in a Turkish air strike.
Turkey launched a military offensive in the area six weeks ago to clear it of Kurdish militia, who it views as terrorists.