Iraq helicopter crash leaves seven American personnel dead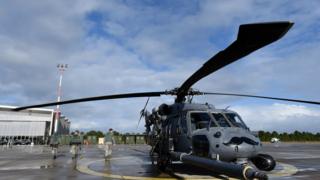 Seven American military personnel have died in a helicopter crash in western Iraq, the US Defence Department says.
The Pentagon says the incident on Thursday night did not appear to be the result of enemy activity.
Another US helicopter immediately reported the crash and the site was secured by Iraqi security forces and coalition troops.
The Sikorsky HH-60 Pave Hawk helicopter crashed near the town of al-Qaim, Anbar province, near the Syrian border.
Brig Gen Jonathan Braga said: "This tragedy reminds us of the risks our men and women face every day in service of our nations.
"We are thinking of the loved ones of these service members today."
The Pentagon said the aircraft, a derivative of the Black Hawk helicopter, was operating as a medevac.
"It was a routine troop transport operation going from Iraq to Syria, nothing out of the ordinary," a US defence official told AFP news agency on Friday.
The US military says there are more than 5,000 American soldiers in Iraq as part of the fight against the Islamic State group.
They include trainers, advisers and special forces.
The US has had a troop presence in Iraq since the invasion of 2003, reaching 168,000 at its peak in September 2007.