Yemen war: Saudis shoot down missiles fired by Houthi rebels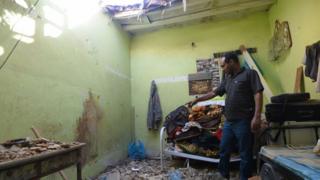 Saudi forces say they have shot down seven missiles launched into Saudi territory by Houthi rebels in Yemen.
Three of the missiles were fired at the capital Riyadh on Sunday night, and an Egyptian man was killed when fragments landed in a suburb, officials say.
Sunday was the third anniversary of the intervention by a Saudi-led coalition in the conflict in Yemen.
The Houthis said they had been aiming at a number of locations, including Riyadh's international airport.
The coalition accuses Iran of supplying the rebels with the missiles - a claim denied by Tehran, which says the launches are "independent actions".
"This aggressive and hostile action by the Iran-backed Houthi group proves that the Iranian regime continues to support the armed group with military capabilities," said coalition spokesman Turki al-Malki.
He added: "The firing of multiple ballistic missiles towards cities is a serious development."
The other missiles were aimed at Khamis Mushait, Najran and Jazan, officials said.
Videos posted online showed what appeared to be US-supplied Patriot missiles being fired towards them from a battery near King Khalid International Airport.
Burning shrapnel from a missile struck a house in Riyadh's Umm al-Hammam district, killing Egyptian labourer Abdul Moteleb Ahmed, a 38-year-old father of two, according to AFP news agency.
Two other people who were living in the same room as him were wounded.
Amnesty International warned that launching indiscriminate attacks that endangered civilians could constitute a war crime.
"A high death toll may have been averted, possibly due to the missiles being intercepted, but that doesn't let the Houthi armed group off the hook for this reckless and unlawful act," said Samah Hadid, the human rights group's Middle East deputy director for campaigns.
Houthi rebels have fired dozens of missiles into Saudi Arabia in recent months.
An attack that targeted Riyadh's airport on 4 November led to Saudi Arabia and its allies tightening their blockade of Yemen's air, sea and land borders.
The coalition said it wanted to stop weapons being smuggled to the rebels, but the UN said the restrictions could trigger "the largest famine the world has seen for many decades".
Although the coalition eased its restrictions on rebel-held ports after several weeks, the extended closures resulted in a sharp increase in prices of basic commodities, accelerating food insecurity and the collapse of already basic services.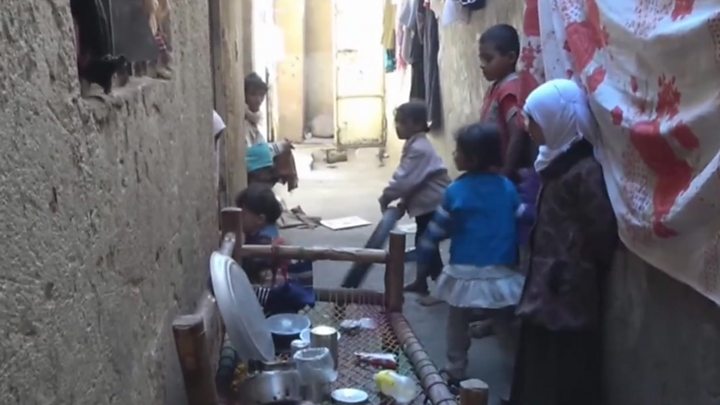 The UN says almost 10,000 people have been killed and 53,000 wounded since the coalition launched a military campaign to defeat the Houthis and restore the internationally-recognised government of President Abdrabbuh Mansour Hadi.
The fighting and blockade have also left 22.2 million Yemenis in need of humanitarian assistance or protection - including 8.4 million who are severely food insecure.
Almost 1.1 million suspected cases of cholera and 2,260 associated deaths have been reported since April 2017, while a rapidly-spreading diphtheria outbreak has infected 1,300 people and killed 75, according to the UN.