Syria war: Rebels 'begin leaving last Eastern Ghouta town'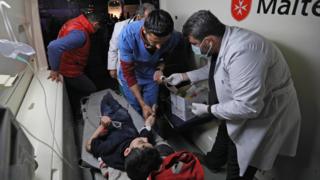 The Syrian government appears poised to regain control of the last rebel-held town in the Eastern Ghouta region close to the capital Damascus.
State media said the first members of the Jaysh al-Islam rebel group had left Douma on buses and were due travel to the northern town of Jarablus.
The government's key ally Russia announced on Sunday that Jaysh al-Islam had agreed to an evacuation.
However, there has so far been no confirmation from the group.
Jaysh al-Islam continued to hold out after two other rebel factions - Faylaq al-Rahman and Ahrar al-Sham - agreed last month to be evacuated from towns under their control to the mainly rebel-held northern province of Idlib.
More than 1,600 people are reported to have been killed and thousands injured since the government and its allies launched an offensive in mid-February to retake the Eastern Ghouta, which was the last major rebel stronghold near Damascus.
A state television correspondent reported that the "implementation phase of removing" Jaysh al-Islam from Douma began on Monday.
The official Sana news agency said 629 fighters and their family members had left the town on 12 buses and passed into government-controlled territory via the nearby al-Wafideen checkpoint, from where they would later travel to Jarablus, on the border with Turkey.
A live feed of the checkpoint broadcast by the Russian military showed several buses arriving and then leaving, but it was unclear who was on board.
There was no immediate comment from Jaysh al-Islam.
On Sunday, a senior political official from the group denied agreeing to a deal that would see its thousands of fighters leave Douma.
Mohammed Alloush told the pro-opposition Enab Baladi website that negotiators had only approved the evacuation of people needing humanitarian assistance.
The Syrian Observatory for Human Rights, a UK-based group that monitors the country's war through a network of sources, reported that there were divisions within Jaysh al-Islam, with many fighters unwilling to leave Douma.
The BBC's Martin Patience in Beirut says one suggestion is that the rebels may lay down their arms and in return become part of a security force recognised by the Syrian government.
The rebels are also coming under intense pressure from the estimated 70,000 civilians trapped inside Douma who are desperate for the fighting to end, our correspondent adds.
The UN said last week that 80,000 civilians living in other towns had fled on foot to government-held territory, as troops made dramatic advances in recent weeks and split the region into three pockets - the largest of which was around Douma.
State media say 41,000 people have also been evacuated to Idlib under deals with Ahrar al-Sham and Faylaq al-Rahman. They reportedly include 1,100 Faylaq al-Rahman fighters and their relatives who left Douma late on Sunday.