Israel scraps plan to send African migrants to West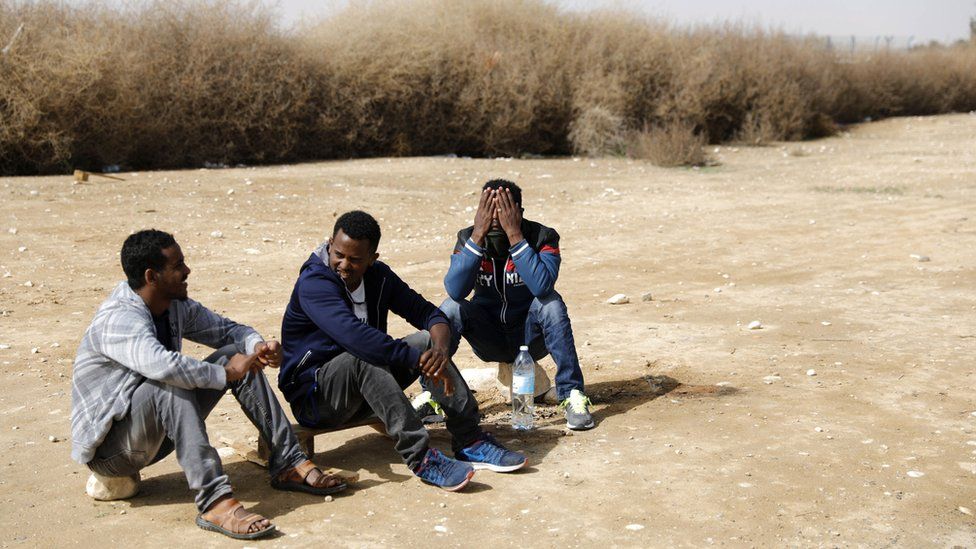 Israel's prime minister has cancelled a deal with the UN to relocate African migrants living in the country, a day after reaching the agreement.
Benjamin Netanyahu said he had taken the decision after consulting residents of south Tel Aviv, where many of the migrants live.
He said he would now consider "all options... to remove the infiltrators".
The fate of more than 30,000 migrants, who entered the country illegally, has long been a hugely contentious issue.
The UN's refugee agency, the UNHCR, said Mr Netanyahu's decision was a "disappointment" and urged the Israeli government to "consider the matter further".
Under the five-year plan, some 16,250 African migrants who entered the country illegally, many of them seeking asylum, would be resettled in Western nations, which Mr Netanyahu had said included Germany, Italy and Canada.
For each migrant resettled overseas, Israel would give "temporary residence" to a migrant in Israel.
However, the arrangement had drawn opposition from anti-migrant groups and from powerful politicians within his governing coalition.
Canada will still take in a number of the migrants in Israel as it has a separate agreement with the Israeli government. According to Canadian reports, almost 2,000 asylum seekers who have requested either immigration status or asylum in Canada will be processed there.
The UN deal had already replaced an earlier controversial plan for mass deportations to third-party countries in Africa if individuals did not go voluntarily. This had been suspended by Israel's Supreme Court.
Mr Netanyahu said that agreement had failed because Rwanda had pulled out.
Where are the migrants from?
Most of the African migrants in Israel are from Eritrea - a one-party state whose leaders have been accused of crimes against humanity by a UN inquiry - and war-torn Sudan.
They say they fled danger at home and that it is not safe to return to another African country, but Israel considers the majority of African asylum seekers to be economic migrants.
Most of them entered from Egypt several years ago, before a new fence was built along the desert border. This has ended most illegal crossings.
How controversial is this issue?
A decision in January to offer the migrants a cash lump-sum and a plane ticket to leave Israel voluntarily or otherwise face forced expulsion was controversial in Israel.
Some critics in the country and among the Jewish community abroad - including former ambassadors and Holocaust survivors - said the plan was unethical and a stain on Israel's international image. The UN refugee agency said it violated local and international laws, and large protests were held in Israel.
Mr Netanyahu said the opposition was "baseless and absurd" and that Israel would resettle "genuine refugees".
Activists, however, noted that only a handful of Eritreans and Sudanese had been recognised as refugees by Israel since the country took over the processing of applications from the UN in 2009.
A note on terminology: The BBC uses the term migrant to refer to all people on the move who have yet to complete the legal process of claiming asylum. This group includes people fleeing war-torn countries such as Syria, who are likely to be granted refugee status, as well as people who are seeking jobs and better lives, who governments are likely to rule are economic migrants.