Syria war: Trump 'persuaded not to pull out immediately'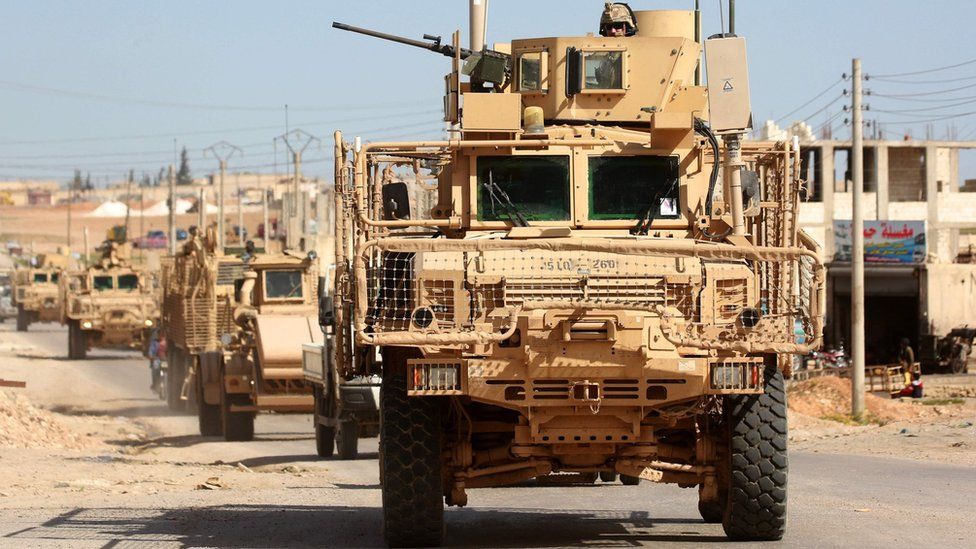 US officials say President Trump has been persuaded not to pull the military out of Syria immediately, despite his declaration last week that the US would "be coming out of Syria very soon".
Advisers reportedly convinced him that it could risk a resurgence by the Islamic State (IS) group.
The White House said on Wednesday the US military mission in Syria was coming to a "rapid end".
But it has not announced a timetable for a full troop withdrawal.
A statement said IS was almost completely destroyed, and that the US would consult its allies regarding future plans.
The US has about 2,000 personnel on the ground in eastern Syria supporting an alliance of Kurdish and Arab militias called the Syrian Democratic Forces (SDF).
With the help of US-led coalition air strikes, SDF fighters have captured tens of thousands of square kilometres of territory from IS over the past three years.
Separately on Wednesday, Turkey, Iran and Russia pledged to speed up efforts to bring stability to Syria after a meeting between leaders in the Turkish capital Ankara.
All three countries are significant players in the conflict, albeit on different sides: Iran and Russia support Syrian leader Bashar al-Assad, while Turkey has backed rebels opposing the regime.
But the three countries' leaders are united in their contempt for Washington and their belief that they now hold the cards in Syria, says BBC Turkey correspondent Mark Lowen.
Iranian Foreign Minister Javad Zarif told BBC Arabic that the US made the "wrong decision" to get involved in Syria in the first place and had created divisions and "worked on fault lines between various ethnicities".
Why does Mr Trump want to withdraw?
In a speech in Ohio last week, the president predicted that the last pockets of land controlled by IS in Syria would be retaken "quickly".
"Let the other people take care of it now. Very soon, very soon, we're coming out," he said. "We're going to get back to our country, where we belong."
He was also reported to have ordered the state department to freeze more than $200m (£142m) in funds for recovery efforts in Syria pledged by his former Secretary of State, Rex Tillerson.
Why do US commanders want to stay?
Officials in the global coalition against IS say the group has lost 98% of the land it once held in Syria and Iraq, but they stress that the jihadist group has not been completely defeated.
IS still holds territory in the Euphrates River Valley in eastern Syria, where the pace of SDF operations has slowed in the past two months because Kurdish fighters pulled out to battle Turkish troops in the north-western Afrin region.
"We are in Syria to fight Isis. That is our mission and our mission isn't over and we are going to complete that mission," said Mr Trump's special envoy, Brett McGurk.
Gen Joseph Votel, head of the US military's Central Command, told a conference on Tuesday: "The hard part I think is in front of us and that is stabilising these areas, consolidating our gains, getting people back into their homes, addressing the long term issues of reconstruction and other things that will have to be done."
He warned that the US could not "make the same mistakes that were made in 2011 when a premature departure from Iraq allowed al-Qaeda in Iraq to survive and eventually morph into [IS]".
Analysis by BBC state dept correspondent Barbara Plett Usher
The Pentagon fears that a complete withdrawal of US troops would leave a dangerous void.
It would in effect cede US-controlled territory to the regime of Syria's president and its Russian backers, betraying America's Syrian allies and neutralising its efforts to influence a post-war order that takes into account Washington's interests and those of its regional allies.
It would disrupt the administration's strategy to help stabilise the devastated battle zones in order to prevent an IS comeback - by providing basic services so that people can return to their homes. The Pentagon and the Department of State are in lock-step on this approach.
And it would allow Iran to expand its already considerable influence in Syria and the region. This is of great concern to Israel, which fears an Iranian military presence on its borders, and to Saudi Arabia, Iran's biggest regional rival.
What made the president change his mind?
Mr Trump was reportedly persuaded by his national security team not to order a quick withdrawal at Tuesday's meeting.
Defence Secretary James Mattis told him that the number of US forces was already being reduced and that a complete withdrawal threatened gains made by the US and its allies, the senior administration official was cited by NBC as saying.
Mr Trump agreed to give him more time and did not set a deadline, but "made his displeasure clear about any kind of long-term presence in Syria", the official added.
Later, the White House said in a statement: "The United States and our partners remain committed to eliminating the small Isis presence in Syria that our forces have not already eradicated. We will continue to consult with our allies and friends regarding future plans."
"We expect countries in the region and beyond, plus the United Nations, to work toward peace and ensure that Isis never re-emerges."