Israel to investigate killing of Palestinian journalist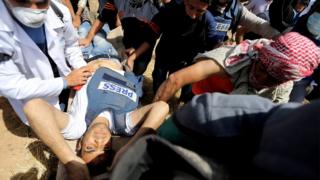 Israel's army says it will investigate the death of a Palestinian journalist shot during clashes between Palestinian protesters and Israeli forces on Gaza's border with Israel, local media report.
Yasser Murtaja, a photographer with a Gaza-based agency, was wearing a clearly marked press vest when wounded on Friday, multiple sources confirmed.
He died from his injuries in hospital - the 28th Palestinian killed in a week.
An Israeli military spokeswoman said it was reviewing the incident.
"The IDF [Israeli Defense Forces] does not intentionally fire on journalists," a statement said according to Israeli website Ynet News. "The circumstances in which journalists were hit, allegedly by IDF fire, are unknown to us and are being examined."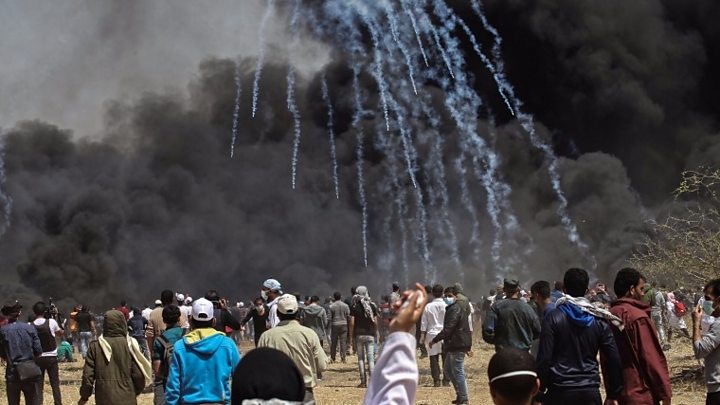 Hundreds attended Mr Murtaja's funeral on Saturday, in which his body was wrapped in a Palestinian flag and a press flak jacket placed on his stomach.
The 30-year-old was one of nine Palestinians killed on Friday. No Israelis and at least 491 Palestinians were injured, according to Palestinian and Israeli officials.
For a second Friday, thousands of protesters gathered at five sites along the 65km-long (40-mile) Israel-Gaza border. They are demanding that refugees be allowed to return to ancestral lands that are now in Israel.
Piles of tyres were set on fire in an attempt to create a smokescreen to block the view of Israeli snipers.
Troops responded with fire, the Israeli military said, when thousands of people attempted to breach the fence on the frontier.
Photos by multiple agencies show Mr Murtaja, who was reporting for Ain Media, being treated immediately after being shot in the abdomen. He was wearing a navy-blue protective vest marked with 'PRESS' in capital letters.
A freelance photographer who was next to Mr Murtaja told Reuters they were both clearly marked as journalists, adding that his colleague was also wearing a helmet.
"The target was very clearly journalists," Mr Murtaja's brother, Motazem, a journalist also at the scene, told French news agency AFP.
UN Secretary General António Guterres called on all parties to "avoid confrontation and exercise maximum restraint" after 19 people were killed and hundreds of others wounded during similar unrest a week ago.
Hamas and other groups are organising a six-week protest campaign dubbed the Great March of Return, which they say is to peacefully call for the right of Palestinian refugees to return to land they fled from or were forced to leave in 1948, when Israel was created.
The Israeli government has long ruled out any right of return and says terrorists are using the cover of the protests to try to cross illegally into its territory.