Dublin lord mayor beats Israel ban due to 'spelling error'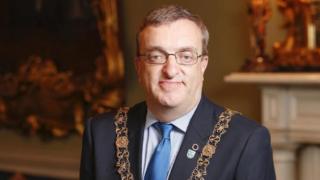 Israel has launched an investigation into how the lord mayor of Dublin got into the country despite a ban.
The interior ministry announced on Tuesday that Mícheál Mac Donncha would not be allowed to enter on account of his ties to a pro-Palestinian group which advocates boycotting Israel.
But Mr Mac Donncha tweeted that he was already in the occupied West Bank after flying into Tel Aviv's airport.
Officials are reported to have misspelt the mayor's name on a watch list.
Interior Minister Aryeh Deri said the mayor would now be given a letter upon his departure informing him that he was barred from future entry to Israel.
Why was the mayor banned?
Israeli officials say Mr Mac Donncha, a Sinn Féin city councillor, has ties to the Dublin-based Ireland Palestine Solidarity Campaign (IPSC).
It supports the Boycott, Divestment and Sanctions (BDS) movement, which campaigns for a complete boycott of Israel over its policies towards the Palestinians.
Israel says the BDS movement opposes the country's very existence and is motivated by anti-Semitism.
In January, the IPSC was among 20 groups blacklisted by Israel's strategic affairs ministry. Individuals holding senior positions in the organisation and those active in promoting the boycott would be denied entry, officials said.
On Monday, Dublin City Council passed two resolutions endorsing the BDS movement and calling for the expulsion of Israel's ambassador over the killing of Palestinians at recent protests on the Gaza-Israel border - a move Israel called "utter nonsense" and "worthy of dark dictatorships".
Mr Mac Donncha also announced that he would travel to the West Bank on Tuesday to attend a conference on the status of the city of Jerusalem at the invitation of the Palestinian Authority.
The mayor condemned US President Donald Trump's decision to recognise Jerusalem as Israel's capital, calling it "a backward step and a severe setback for the cause of peace, reconciliation and justice in Palestine and Israel".
How did the mayor get into Israel?
Israel's interior minister tweeted on Tuesday that Mr Mac Donncha was coming to Israel to "incite against us", adding: "He won't come in!"
However, shortly afterwards the mayor tweeted to say he was already in the West Bank city of Ramallah.
The interior ministry initially told the Haaretz newspaper that Mr Mac Donncha had arrived before his name was added to a watch list.
But the ministry later admitted that the mayor had been allowed to pass through Tel Aviv airport because authorities misspelt his name.
A spokesperson said: "We made a mistake at the border crossing."