Syria 'chemical attack': France's President Macron 'has proof'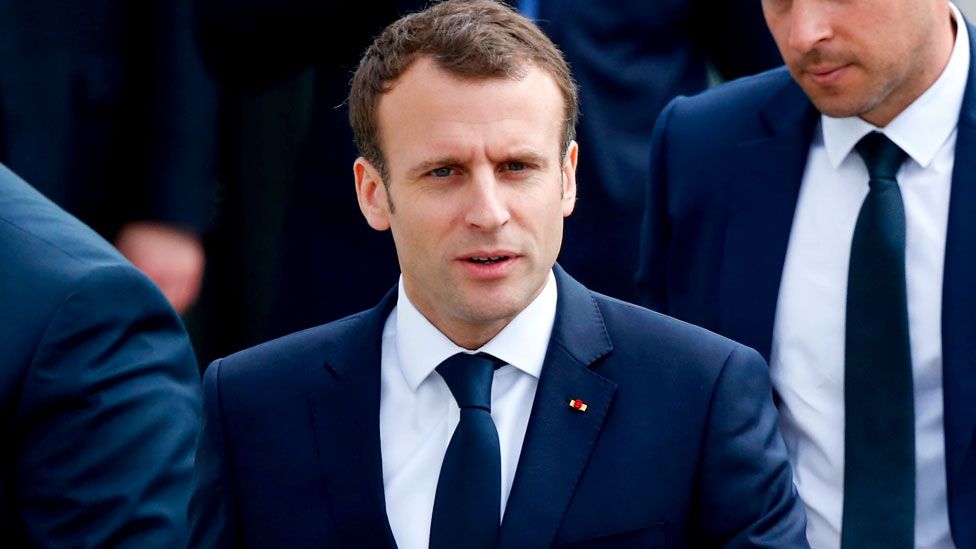 France's President Emmanuel Macron says he has "proof" that the Syrian government attacked the town of Douma with chemical weapons last weekend.
He said he would decide "in due course" whether to respond with air strikes.
Urine and blood samples from victims of the attack have tested positive for chlorine and a nerve agent, media reports quote US officials as saying.
Western states are thought to be preparing for missile strikes. Russia strongly opposes such action.
Kremlin spokesman Dmitry Peskov urged against "any steps which could lead to an escalation of tensions".
US President Donald Trump, who said on Wednesday that missiles were "coming", has now tweeted that he "never said when".
Also on Thursday, US Secretary of Defense Jim Mattis told a congressional panel: "I believe there was a chemical attack and we are looking for the actual evidence."
Nato Secretary General Jens Stoltenberg said: "We condemn in the strongest terms the use of chemical weapons. The latest attack was horrendous."
Did Macron offer evidence?
The French leader had previously said any strikes would target the Syrian government's "chemical capabilities".
He did not give the source of his information but said: "We have proof that last week chemical weapons, at least chlorine, were used by the regime of Bashar al-Assad."
Asked in a TV interview whether France would join strikes on Syria, he said: "We will need to take decisions in due course, when we judge it most useful and effective.
"Regimes that think they can do everything they want, including the worst things that violate international law, cannot be allowed to act."
Lucy Williamson, BBC News, Paris
A year ago, Russian President Vladimir Putin stood grim-faced in the opulence of France's Versailles Palace, as a newly elected Emmanuel Macron announced that the use of chemical weapons in Syria was a "red line" for France, and "would result in reprisal and an immediate response".
Now Mr Macron - who likes to be seen as a president who does what he says he will do - is facing the test of what "reprisal" actually means.
Former US President Barack Obama was derided in France for not following through on his own "red line" after Syrian attacks five years ago.
"When you fix red lines," Mr Macron told a French newspaper last year, "if you can't enforce them, you decide to be weak."
Strength is an important part of President Macron's bid to project French influence on the world stage - and a key element, too, of his new political friendship with his US counterpart Donald Trump.
Activists and medics say dozens of people died when government aircraft dropped bombs filled with toxic chemicals on Douma on Saturday.
President Assad's government denies being behind any chemical attack.
The international Organisation for the Prohibition of Chemical Weapons (OPCW) is due to send monitors to Douma, but it is how much evidence of any chemical attack might remain.
Douma was the last major rebel stronghold near Damascus. Local activists say the main leaders of the group that held it have left, following an agreement between Russia and the rebels.
Russian claims that the town had been taken over by Syrian forces could not be independently verified.
What is Russia's position?
Russia, Syria's main military ally, has described the reports of a chemical attack as a "provocation" designed to justify Western intervention against its ally, and accused militant rebels of fabricating it.
Senior Russian figures have warned that missiles threatening the country's forces in Syria will be shot down and their launch sites targeted.
On Thursday a foreign ministry spokeswoman asked whether the aim of Western strikes might be "to quickly remove the traces of the provocation".
President Vladimir Putin said he hoped common sense would prevail and that the situation would stabilise.