Holocaust row: Abbas accused of anti-Semitism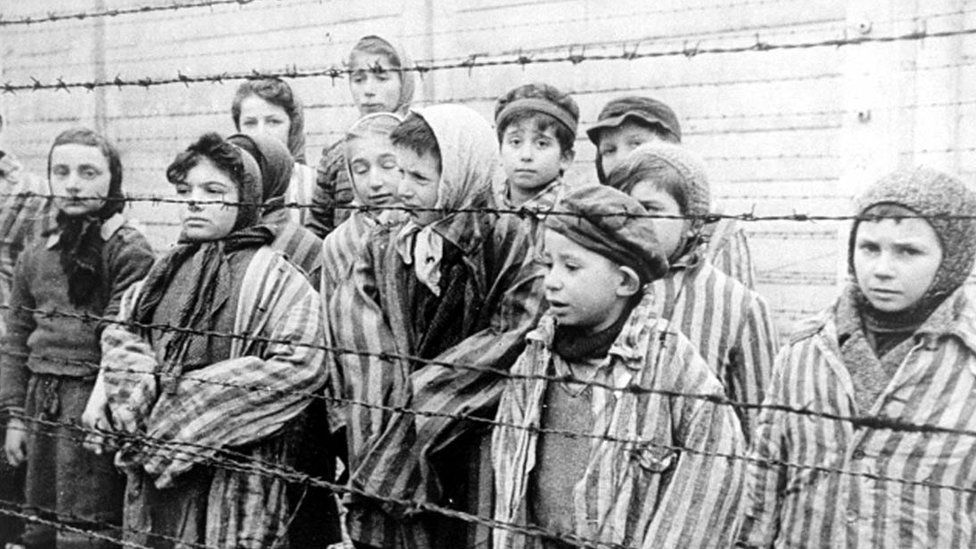 Remarks by Palestinian leader Mahmoud Abbas about the Holocaust have been condemned as anti-Semitic by Israeli politicians and rights activists.
Mr Abbas told a meeting in the West Bank the Nazi mass murder of European Jews was the result of their financial activities, not anti-Semitism.
He described their "social function" as "usury and banking and such".
Israeli Prime Minister Benjamin Netanyahu's spokesman said the remarks were "anti-Semitic and pathetic".
Michael Oren, Israel's deputy minister for diplomacy, remarked in a tweet: "Mahmoud Abbas says money-lending Jews provoked Holocaust... Now there's a peace partner."
Skip twitter post by Michael Oren
Allow Twitter content?
This article contains content provided by Twitter. We ask for your permission before anything is loaded, as they may be using cookies and other technologies. You may want to read Twitter's cookie policy, external and privacy policy, external before accepting. To view this content choose 'accept and continue'.
The BBC is not responsible for the content of external sites.
End of twitter post by Michael Oren
In New York, the Anti-Defamation League condemned Mr Abbas's "anti-Semitic assertions".
In its attempt to annihilate the Jews of Europe during World War Two, Nazi Germany murdered some six million of them, building death camps to expedite the mass slaughter.
Driven by fanatical nationalism, the Nazis regarded Jews as a threat to Germany's "racial purity".
What did Abbas say exactly?
He was addressing a rare meeting of the Palestinian National Council, the legislative body of the Palestine Liberation Organisation (PLO), in the West Bank town of Ramallah on Monday.
Carried live on Palestinian TV, the 90-minute speech in Arabic included a section on the Palestinian leader's view of the history of European Jewry, based on what he said were books by "Jewish Zionist authors".
Jews in eastern and western Europe, he said, had been periodically subjected to massacres over the centuries, culminating in the Holocaust.
"But why did this used to happen?" he asked. "They say, 'It is because we are Jews.' I will bring you three Jews, with three books who say that enmity towards Jews was not because of their religious identity but because of their social function.
"This is a different issue. So the Jewish question that was widespread throughout Europe was not against their religion but against their social function which relates to usury [unscrupulous money-lending] and banking and such."
Mr Abbas also denied that Ashkenazi Jews - Jews from Germany and north-eastern Europe - were actually Semitic, saying, "They have no relation to Semitic people."
Ashkenazi Jews make up one of Israel's biggest communities, giving the state a long line of prime ministers, including Mr Netanyahu.
It is not the first time the Palestinian leader's views on the Holocaust have caused offence.
A student dissertation he wrote in the early 1980s argued there had been a "secret relationship between Nazism and Zionism" before the war, and appeared to question the death toll of six million.
How did the Anti-Defamation League respond?
Jonathan Greenblatt, chief executive officer of the ADL, which campaigns to "stop the defamation of the Jewish people", dismissed the Palestinian leader's "ahistorical and pseudo-academic assertions".
Skip twitter post 2 by ADL
Allow Twitter content?
This article contains content provided by Twitter. We ask for your permission before anything is loaded, as they may be using cookies and other technologies. You may want to read Twitter's cookie policy, external and privacy policy, external before accepting. To view this content choose 'accept and continue'.
The BBC is not responsible for the content of external sites.
End of twitter post 2 by ADL
"The Palestinian President's latest diatribe reflects once again the depth and persistency of the anti-Semitic attitudes he harbors," he said in a statement.
"With public speeches like these, it is not surprising that under Abbas' leadership, the Palestinian Authority has failed to renounce and combat Palestinian anti-Semitic incitement, including narratives that Jews are to blame for the Holocaust and other anti-Semitic persecution, and which deny or diminish the millennial Jewish presence in and connection to the Land of Israel."
How are relations between Abbas and the Israelis?
Mr Netanyahu's spokesman, Ofir Gendelman, tweeted: "A man who denies the Jewish people's connection to the Land of Israel that is thousands of years old, blames the Jews for the Holocaust & claims that Hitler helped Jews has lost all connection to reality & does not want peace."
The last direct peace talks took place in 2014, when Barack Obama was in the White House. They broke down amid acrimony.
Since Donald Trump became US president last year and controversially recognised Jerusalem as Israel's capital, the chances of talks resuming have looked even more remote.