Socotra, the Galapagos of the Indian Ocean, becomes a disaster zone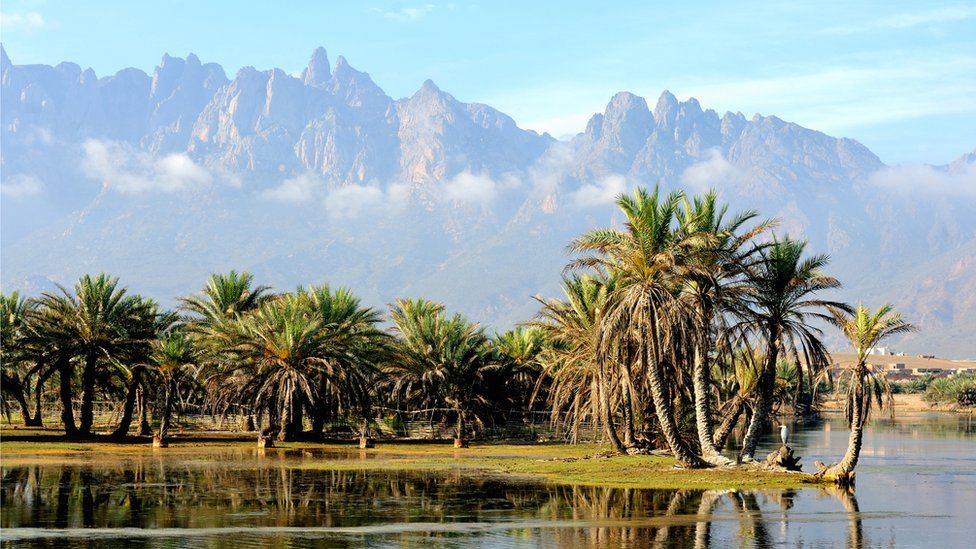 The island chain of Socotra, famed for unique plants and animals found nowhere else on the planet, is coping with the aftermath of a powerful cyclone.
The archipelago was struck by Cyclone Mekunu on Wednesday night, leaving at least 17 people missing and forcing its native population to flee floodwaters.
Socotra is part of Yemen, which is embroiled in a lengthy civil war - something from which the four islands have largely been spared.
But after two boats capsized during the cyclone, and at least three cars were washed away by powerful floods, the government has declared Socotra a disaster zone.
Coastal areas "were submerged by floods causing heavy damage to homes," a spokesman told AFP.
Hundreds have been evacuated from villages, but rescue workers are reportedly unable to reach many people in isolated parts of the main island.
Officials have appealed to international aid agencies for help.
Socotra is famed for its natural beauty.
Its startling biodiversity has earned it the nickname "Galapagos of the Indian Ocean" - a nod to Ecuador's famous Pacific island chain whose ecosystem is so unique it inspired Charles Darwin's theory of evolution.
The link to the famed Galapagos is not purely marketing either. Since it was first surveyed by United Nations' biologists in 1997, Socotra has been considered one of the most biologically diverse and distinct places on Earth.
It's estimated that 37% of its plants and 90% of its reptiles (along with almost all of its snails) are found nowhere else on earth, and the entire island chain is a registered Unesco World Heritage site.
One of the most iconic of its native species is the blood dragon tree - a striking, umbrella-shaped tree with a thick trunk.
It gets its name from the deep red sap within, which is gathered as a resin - and has a wide range of uses including as a dye, as incense, and in traditional medicine.
Inaccessible island beauty
The island's status as an ecological gem, however, has caused some problems for its residents.
As its population battles the torrential floods left behind by Cyclone Mekunu, reaching those in need is a major problem - partly because Socotra has few roads stretching into its biodiversity areas.
A 2007 travel article in the New York Times said a journey in a four-wheel-drive vehicle with an expert local driver as guide was "a struggle to the death", covering five miles in an hour and a half. It was, the author writes, worth it.
But plans to build and expand access roads on Socotra's main island have been controversial for years. Unesco considers the building of roads in the protected areas "a serious threat" to the island's value, and no improvements have been made since 2010.
Unesco had also expressed concern about how exactly humanitarian funds were being spent, amid reports they could be used to build "residential cities, ports, hotels, and roads".
But some construction work is sorely needed - because this week's cyclone is the third in recent years.
Two cyclones - the name given to hurricanes when they form in the South Pacific and Indian Oceans - battered Socotra in November 2015.
Cyclone Chapala brought powerful winds similar to a category four hurricane, damaging homes, vehicles, and injuring dozens.
Less than a week later, Cyclone Megh passed directly over the main island, triggering flash floods and killing another two people. Thousands were displaced from their homes.
The damage was not limited to buildings and infrastructure. Soil erosion and habitat damage were also probable, and Unesco approved $75,000 (£56,000) in assistance last year to help mitigate the impact on threatened plants.
Socotra remains under the control of the internationally-backed government, whose President Abedrabbo Mansour Hadi is in exile in Saudi Arabia.
His government called for all "urgent aid" possible for the people of Socotra.
But the mainland continues to be plagued by a complex civil war involving several regional titans.
The result is that mainland Yemen is suffering the worst humanitarian disaster on Earth, according to the United Nations.
The vast majority are men, but 791 children are reported among the dead - and the UN believes the actual numbers of the dead, including those not formally recorded, "are likely to be much higher".
Cyclone Mekunu could hit the mainland this weekend near the border with neighbouring Oman, and could gain strength before making landfall.
Photographs are subject to copyright