Gaza violence: Red Cross sends surgeons 'to help health crisis'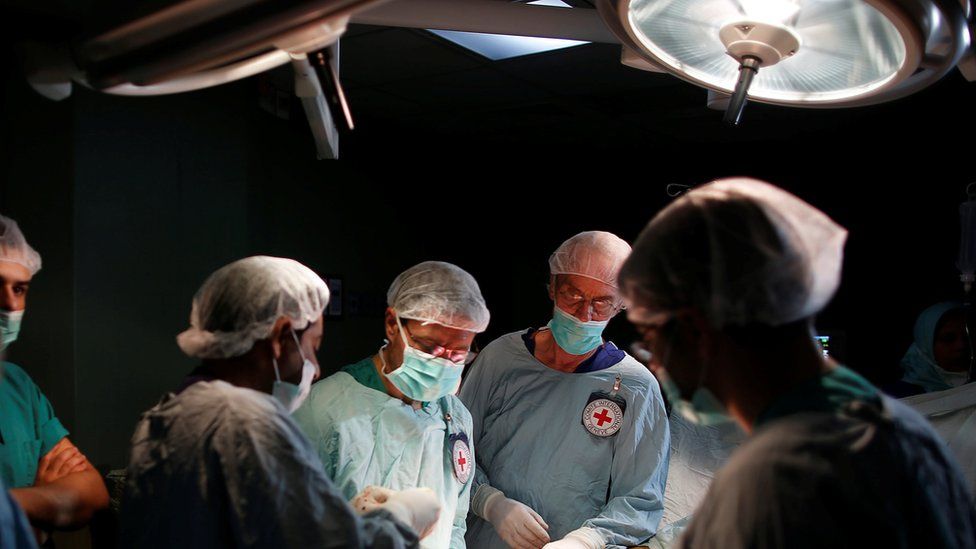 The International Committee of the Red Cross (ICRC) says it will send two surgical teams to Gaza to help with an "unprecedented health crisis".
More than 13,000 Palestinians have been injured since violence flared up along the border with Israel in March, the aid agency says.
As well as surgeons, it will send other medical staff and additional supplies.
There has been a spike in deadly violence in the region amid mass protests by Palestinians on the border.
"The recent demonstrations and violence that took place along the Gaza border... have triggered a health crisis of unprecedented magnitude in this part of the world," the ICRC's head of operations for the Middle East, Robert Mardini, told a press conference on Thursday.
"Our priority now clearly is to help gunshot wound victims," he added.
Mr Mardini said that hundreds of people required treatment for live ammunition wounds, and many would require three to five complex surgeries each.
He described the local healthcare system as "stressed and overburdened" and said it "simply can't handle" the high number of patients.
The ICRC will set up a 50-bed surgical unit at Gaza's largest hospital - al-Shifa - where it already has a team of surgeons in place.
That team consists of four to five people who work on a rotating basis, but the agency says it is now boosting its medical presence.
The new unit will include anaesthetists and nurses and will be fully operational by July, an ICRC spokeswoman told the BBC.
The ICRC's decision to deploy more medical staff to the region follows weeks of deadly-violence.
The Israeli army said air strikes hit targets including a a cross-border tunnel belonging to Gaza's main militant group. Earlier in the day, an empty kindergarten in Israel came under mortar fire from militants.
Separately, more than 100 Palestinians have been killed by Israeli snipers amid protests which saw thousands of Palestinians mass on the border in support of the declared right of Palestinian refugees to return to their ancestral homes in what is now Israel.
Israel said its snipers had opened fire on attackers or people attempting to infiltrate under cover of protests, but UN and human right officials have accused Israel of using disproportionate force.