Is Israel driving a wedge between Russia and Iran?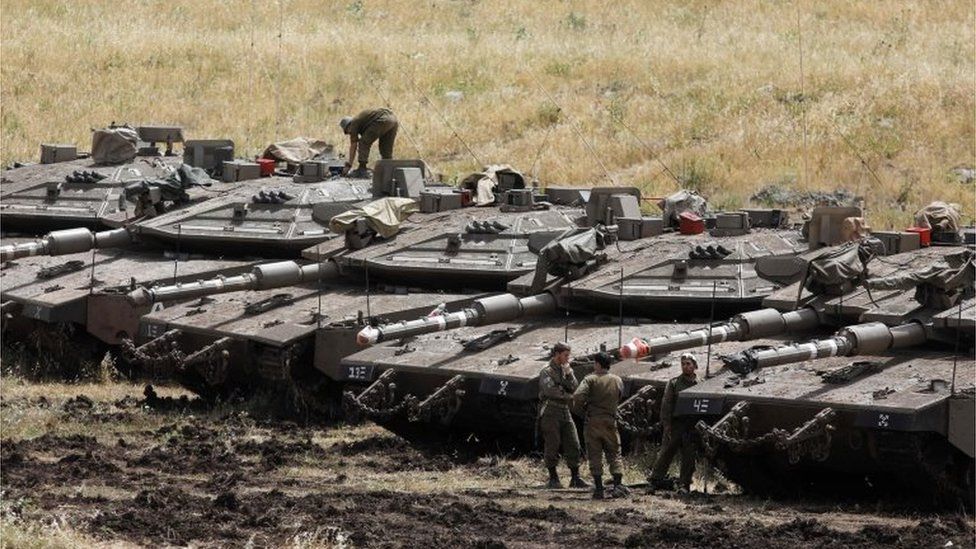 Earlier this month the long-running battle between Israel and Iran in Syria reached a dramatic crescendo. What is believed to have been Iranian rocket-fire against Israeli army positions on the occupied Golan Heights (itself a response to earlier Israeli air attacks against an Iranian base in the country) prompted a major Israeli offensive.
Israeli warplanes struck some 50 Iranian targets in Syria, virtually every known Iranian base or installation, according to analysts, setting back Iran's military build-up for months if not years.
Now though it is becoming clearer that the attack could change the regional dynamics even further. And developments on the southern Golan Heights could provide additional impetus.
This south-west Syrian area - which includes the Quneitra governorate that borders Israeli positions - looks set to become the focus of a new government assault.
The Assad regime is eager to oust a variety of militia forces, at least some of whom pledge allegiance to the Islamic State (IS) group.
The potential battle here could be a new crucible, raising tensions between the three outside actors with the most significant strategic interests in the country - namely Iran, Israel, and Russia.
The relationship between these three countries is unusual to say the least. Iran and Israel are sworn enemies. And Syria is fast becoming the most dangerous front in their bitter rivalry.
Russia and Iran have been the key military backers of the Assad regime in Syria. Without them he might well have been swept from office.
But Moscow has close ties with Israel too. Israel's Prime Minister Benjamin Netanyahu was recently a guest of honour at a major military parade in Moscow marking victory in World War Two.
So how does Russia balance its ties with both Iran and Israel? Are their strategic interests in Syria diverging?
The surprising factor in the long-standing Israeli air campaign to limit and, if possible, reverse the entrenchment of pro-Iranian forces in Syria is the passivity of Moscow.
Russia - nominally an ally of Iran - has its own air base in Syria with powerful radars and surface-to-air missiles that could significantly hamper Israeli air operations if they wanted to. But so far they have done nothing.
They have, in effect, left the skies over Syria and Lebanon open for Israeli air operations to unfold.
Indeed there is a permanently manned hot-line between Israeli and the Russian headquarters in Syria to ensure that Israeli strike missions do not conflict with Russian air movements.
So what conclusion is to be drawn from Russia's behaviour? Is there a sense in which Moscow and Tehran no longer see eye-to-eye? And what could this mean for the undeclared war between Israel and Iran?
At the outset it was all much simpler. When the Assad regime looked like it was crumbling in August 2016, his allies felt compelled to come to his aid.
Russia provided the air power and it was Iran and its various allied militias, including Hezbollah in Lebanon, who bolstered President Assad's forces on the ground.
In this sense Russian and Iranian aims were in alignment - both to stabilise the military situation, and if possible to enable the regime to go on the offensive to seize back some of the territory it had lost.
For Russia this was all about providing support for a long-standing ally; a relationship going way back into the Cold War years.
Moscow was alarmed at the growing instability in the region, fearing that the march of IS would eventually inflame passions closer to Russia's own borders.
There were geo-strategic considerations as well. Syria with its small Russian naval base (now being expanded) represented a small toe-hold for Moscow in the Middle East, a region where it was eager to renew its influence as it saw Washington's standing on the decline.
Iran, too, was coming to the aid of a long-standing ally but there were geo-strategic calculations in its policy as well.
A weak and fragmented Syria would do little to constrain Israel. While the latter sees Iran and its potential quest for an atomic bomb as an existential threat, Iran itself sees Israel's long-range military power as a considerable threat and an obstacle to its regional ambitions.
Thus if the Assad regime could be stabilised and Iranian or proxy forces established in Syria, Israel could be confronted nearer to its own borders.
Indeed with Iran's growing influence in Iraq, President Assad's continued presence could offer the prospect of a land corridor extending through Syria and into Lebanon, which might one day allow weaponry and military supplies to reach Hezbollah.
For now much of this rocketry and equipment goes by air. But such supply routes might one day be interrupted. Iran remains a revolutionary regime eager to export its message into the Arab world.
The Assad regime's growing victories saw a variety of pro-Iranian forces establishing themselves in Syria, from units of the Revolutionary Guard Corps to a variety of militias - a kind of Shia foreign legion, recruited in Pakistan, Afghanistan and elsewhere.
Israel has been waging a major propaganda battle to convince the world that Iran is seeking a permanent military presence in Syria and asserting that this is something it will not allow.
The rising tensions have prompted significant diplomatic activity between Israel and Russia. Only this week Israeli Defence Minister Avigdor Lieberman is in Moscow for talks with his Russian counterpart, Sergei Shoigu.
All the indications are that Russia was alarmed by the ferocity of Israel's strikes on Iranian installations, fearing that if this continues then a conflagration could erupt that would threaten President Assad's hold on power.
Russia appears willing to back a plan under which pro-Iranian forces will not be allowed to come any closer to Israel's borders.
In the short-term this would mean pro-Iranian militias sitting out any new government offensive on the southern Golan.
But this is only likely to be a temporary expedient. Israel opposes an Iranian military presence in Syria per se and most of its air strikes have been a long way away from the Golan.
And Iran with its own interests in mind is unlikely to meekly withdraw.
Russian President Vladimir Putin has called for all foreign forces to be withdrawn from Syria; a demand echoed just a few days ago by his foreign minister, Sergei Lavrov, who said that only Syrian forces should be deployed in the south of the country.
But just how much leverage do the Russian have over Tehran and its allies?
Moscow clearly wants to stabilise the situation in Syria enabling the Assad regime to "declare victory".
Iran is an essential ally on the ground in achieving this goal. But the regional struggle between Israel and Iran looms large. Having decided that it will apparently give Israel a free hand in the skies, Russia may well find a less-than-receptive audience back on terra firma in Tehran.