Iraq election: Fire at Baghdad ballot paper depot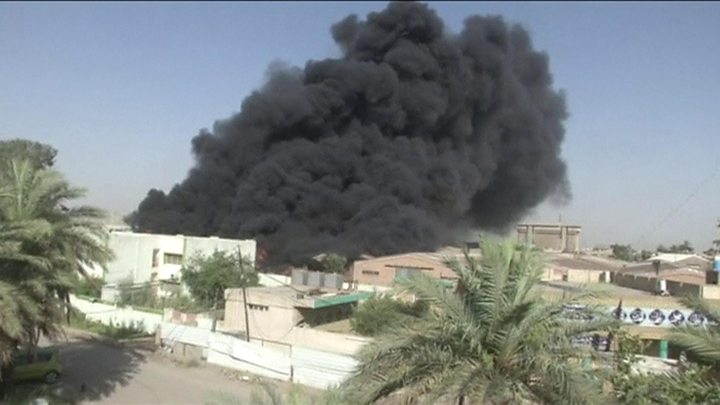 A fire has been brought under control at Iraq's biggest ballot paper storage depot days after an election recount was ordered.
Votes for the eastern district of the Iraqi capital, Baghdad, were being held in the depot.
Officials say some ballot boxes could have been in a warehouse that burnt down but most were safe.
Last month's legislative elections were won by an alliance headed by Shia Muslim cleric Moqtada Sadr.
Amid allegations of fraud, the outgoing parliament ordered a recount of about 10 million votes.
The depot housed ballot boxes from the city's al-Rusafa district.
An interior ministry spokesman told Reuters news agency the blaze had been confined to one of four warehouses.
Iraqi authorities have not commented on whether they think the blaze was caused deliberately.
On Tuesday, Prime Minister Haider al-Abadi warned that security agencies had evidence of "unprecedented" violations during the elections.
He said the main issue was with the electronic vote-counting machines that were used for the first time on 12 May.
Fire 'plot'
Though the cause of the fire was not reported, Mr Abadi described it as a "plot to harm the [Iraqi] nation and its democracy".
He said the government would "take all necessary measures and strike with an iron fist against those who undermine Iraq's security".
The outgoing speaker of the Iraqi parliament has said the election should be repeated as a result of the fire.
Salim al-Jabouri, who lost his seat in May's election, said the fire was "a deliberate act, a planned crime, aimed at hiding instances of fraud and manipulation of votes".
Mr Sadr's nationalist grouping formed an alliance with a number of secular parties.
It won 54 of the 328 seats in parliament - making it the largest bloc in the post election landscape.
The cleric, who has ruled himself out of becoming Iraq's prime minister, once led a militia which fought US troops.
One of Mr Sadr's aides, Dhiaa al-Asadi, said on Twitter (in Arabic) that he thought the fire was carried out "to cancel the election or destroy the stuffed ballots counted amongst the results".
A bloc linked to Iranian-backed paramilitaries that have battled the jihadist group Islamic State (IS) over the past four years came second with 47 seats.
The election, the first held since the government declared victory over IS in December, saw a turnout of 44.5% - much lower than in previous polls.