Yemen war: Why the battle for Hudaydah matters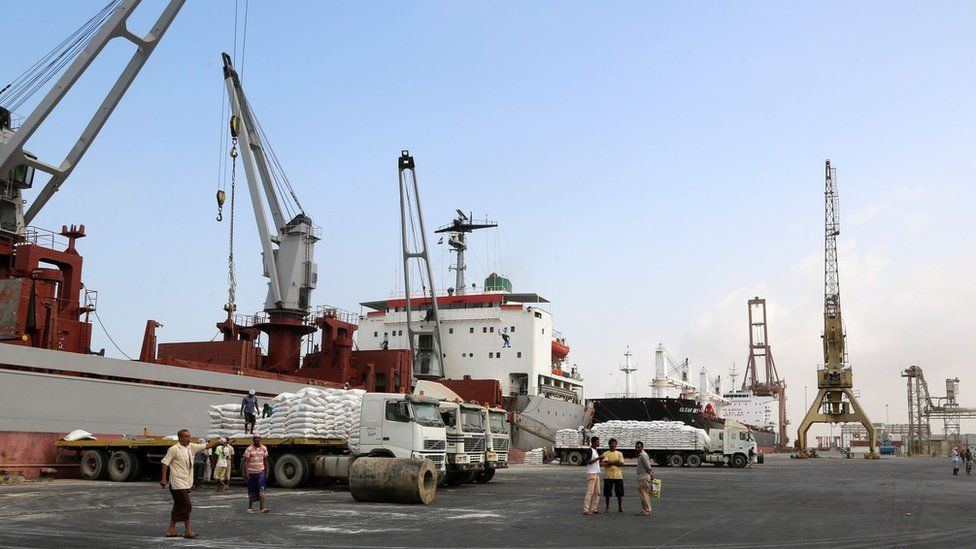 Yemeni pro-government forces backed by a Saudi-led multinational coalition have launched an assault on the Red Sea city of Hudaydah, which is home to 600,000 people and is controlled by the rebel Houthi movement.
Aid agencies have said the battle may exacerbate an already catastrophic humanitarian situation in a country devastated by three years of civil war.
Hudaydah's port is the principal lifeline for just under two-thirds of Yemen's population, which is almost totally reliant on imports of food, fuel and medicine.
The UN has warned that in a worst-case scenario, the battle could cost up to 250,000 lives, as well as cut off aid supplies to millions of people.
Hudaydah, 140km (90 miles) west of the capital Sanaa, was Yemen's fourth-largest city and a major economic hub before rebels took control of it in late 2014.
Hudaydah's location also gave it great strategic importance.
To the west of the city is the Red Sea and major international shipping lanes that are used to move goods between Europe, Asia and Africa via the Suez Canal.
To the east is the fertile Tihama plain, Yemen's most important agricultural area.
And just to the north is the Ras Isa oil terminal - which served the Marib oilfields and was the country's main export terminal - and the nearby port of Saleef.
Hudaydah became even more important after the conflict between the Houthis and the government escalated in March 2015, when the Saudi-led coalition intervened.
The coalition launched a major air campaign that the UN says has killed thousands of civilians and destroyed critical infrastructure across rebel-held Yemen. It also imposed a partial blockade, badly affecting supplies of food, fuel and medicines.
Basic services collapsed as a result, triggering the world's worst humanitarian crisis.
More than 22 million Yemenis - three-quarters of the population - need some form of aid, and eight million do not know how they will obtain their next meal.
Hudaydah is a lifeline for people living in rebel-held areas, serving as the most important point of entry for the basic supplies needed to prevent famine and a recurrence of a cholera epidemic that affected a million people last year.
Despite its importance to humanitarian operations, coalition warplanes have frequently bombed Hudaydah's port. In August 2015, air strikes disabled four giant mobile cranes, drastically slowing the unloading of food until they were replaced by the US - which supports the coalition - this January.
The launch of a ballistic missile towards Riyadh by the Houthis in November 2017 also prompted the coalition to tighten its blockade of Yemen. The coalition said it wanted to halt the smuggling of weapons to the rebels by Iran - an accusation Tehran denied - but the closure of Hudaydah for several weeks resulted in sharp increases in prices of basic commodities, accelerating food insecurity.
Almost 70% of Yemen's imports were entering the country through Hudaydah and Saleef by late May 2018, when pro-government forces backed by the United Arab Emirates advanced along the Red Sea coast to within 10km (6 miles) of Hudaydah.
"A military attack or siege on Hudaydah will impact hundreds of thousands of innocent civilians," Lise Grande warned. "In a prolonged worst case, we fear that as many as 250,000 people may lose everything - even their lives."
After the assault on Hudaydah began, Ms Grande reminded all parties to the conflict that under international humanitarian law they had to "do everything possible to protect civilians and ensure they have access to the assistance they need to survive". "Right now, nothing is more important," she added.
The International Committee of the Red Cross said it had positioned food, medical supplies, water purification systems and sanitation supplies in Hudaydah, but that it would struggle to distribute them once fighting reached the city.
The organisation also expressed concern about Hudaydah's water and electricity networks, which it said were vital to the population's survival.
It noted that pro-government forces took months to consolidate control over the small coastal town of Mocha last year, and that the Houthis were entrenched in Hudaydah and likely to try to hold on to the city for as long as possible.