Syria war: War crimes committed in Eastern Ghouta battle - UN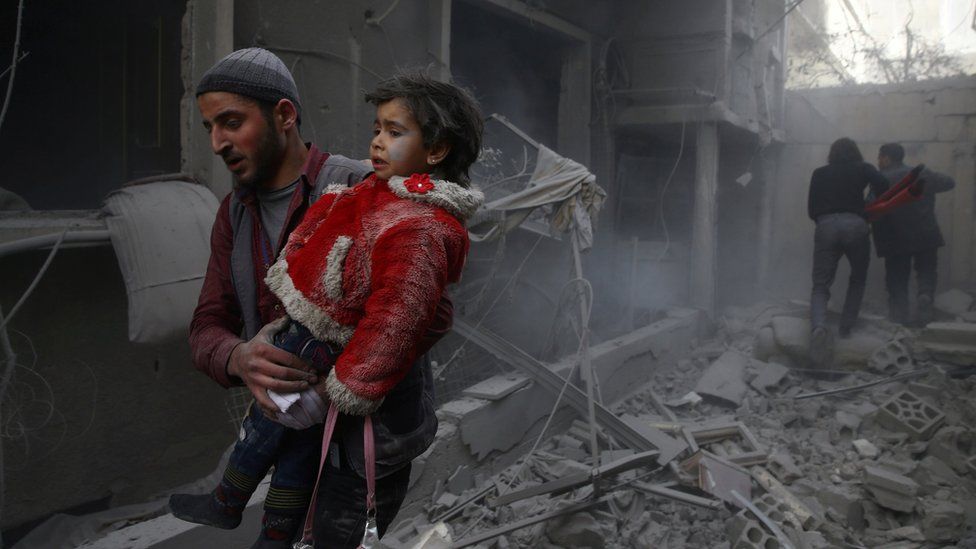 Syrian pro-government forces committed a crime against humanity and war crimes during their siege of the Eastern Ghouta region, UN investigators say.
A new report says troops caused serious mental and physical suffering to the rebel enclave's residents by bombarding their homes and denying them food.
They also allegedly attacked protected objects like hospitals deliberately.
Rebel forces are accused of committing a war crime by indiscriminately shelling civilians in nearby Damascus.
But the investigators are still looking into whether chemical weapons were used in an attack in April on what was then the last rebel town in the Eastern Ghouta.
They said the evidence pointed to the use of chlorine in Douma, but that some people had exhibited symptoms more consistent with exposure to a nerve agent.
The US, UK and France have said they are confident the government used chemical weapons but it has accused them of "staging" the incident.
The five-year siege of the Eastern Ghouta, an agricultural region outside the capital where at least 265,000 civilians lived, was the longest in modern history.
It came to an end in April, after a two-month offensive by pro-government forces, backed by Russian air strikes, that decimated homes, markets, and hospitals and reportedly left more than 1,700 men, women and children dead.
With power and water cut off, they resorted to burning plastic to generate electricity and dug hundreds of wells in the hope of finding clean water. As the bombardment intensified, they retreated to overcrowded basement shelters lacking toilets.
"It is completely abhorrent that besieged civilians were indiscriminately attacked, and systematically denied food and medicine," said the chairman of the commission, Paulo Pinheiro.
The report finds that through the widespread and systematic bombardment of civilian areas and objects, and the continued denial of food and medicine to besieged civilians, pro-government forces "perpetrated the crime against humanity of inhumane acts causing serious mental and physical suffering".
The report also concludes that the frequency of attacks on official and makeshift hospitals "strongly suggests that pro-government forces systematically targeted medical facilities, repeatedly committing the war crime of deliberately attacking protected objects, and intentionally attacking medical personnel".
There was no immediate response to the report from the Syrian government or its allies but at the time of the offensive they denied targeting civilians or civilian infrastructure, and blamed rebel fighters for operating in residential areas.
Rebel groups, including Jaysh al-Islam and Ahrar al-Sham, along with the al-Qaeda-linked jihadist alliance Hayat Tahrir al-Sham relentlessly fired unguided mortars into neighbouring Damascus and other nearby areas, killing and maiming hundreds of civilians, according to the report.
"Even if pro-government forces are bombing and starving the civilian population of Eastern Ghouta into submission, there can be no justification for the indiscriminate shelling of civilian inhabited areas in Damascus," said commission member Hanny Megally.
The report says rebels also regularly arbitrarily arrested and tortured civilians, including members of religious minority groups, which constituted the war crimes of cruel treatment and torture, and outrages upon personal dignity.
The report notes that by the time the government declared the Eastern Ghouta successfully recaptured, some 140,000 people had been displaced from their homes, tens of thousands of whom are still being unlawfully interned by government forces in managed sites.
Another 50,000 civilians were bussed to rebel-held areas in Idlib and Aleppo provinces under "evacuation agreements" that the commission has in the past warned could constitute forced displacement.