Syria war: Thousands flee fighting in south-west as troops mobilise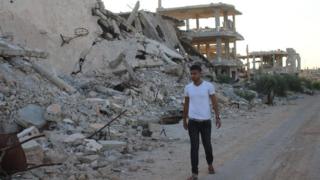 Hundreds of families have fled rebel-held areas of south-western Syria in anticipation of a government offensive.
The UN said at least 2,500 people had been displaced in Deraa province in recent days but a monitoring group put the figure at about 12,500.
Troops and pro-government militiamen have stepped up artillery strikes on the region, which borders Jordan and the Israeli-occupied Golan Heights.
Fighting has been limited there since last year under a "de-escalation" deal.
The US - which supports rebel forces in the area and brokered the agreement along with Jordan and the government's key ally, Russia - warned last week that it would "take firm and appropriate measures" in response to any violations.
It fears that a government offensive will broaden the conflict in Syria, which has left more than 350,000 people dead and displaced 11 million others since 2011.
The Syrian Observatory for Human Rights, a UK-based monitoring group, reported on Thursday that some 12,500 civilians had fled their homes in eastern Deraa province in the past two days after government forces intensified their shelling.
The displaced civilians were heading southwards to rebel-held areas near the Jordanian border that had not yet been affected by the bombardment, it said.
Syria's state news agency, Sana, said the army had been shelling the positions of the al Qaeda-linked jihadist alliance Hayat Tahrir al-Sham in the towns of al-Hirak and Busra al-Hariri.
It also reported that shells fired by "terrorists" in Deraa province had killed two civilians in the government-held city of Suweida, to the east.
The UN said shelling and fighting reportedly killed 20 people on Wednesday, including 11 in the city of Deraa, and expressed deep concern for the safety of the estimated 750,000 people living in south-western Syria.
It called on all parties to "take all necessary measures to safeguard civilian lives, allow freedom of movement, and to protect civilian infrastructure, as required by international humanitarian and human rights law".
The towns being shelled by pro-government forces are located in a strip of land that is flanked by government-held territory to the east and west.
Pro-opposition media have reported a build-up of troops, militia fighters and tanks nearby. The prominent army commander Brig-Gen Suhail al-Hassan, head of the elite Nimr (Tiger) Forces, is also thought to have arrived there.
President Bashar al-Assad has set his sights on regaining control of south-western Syria since his forces defeated rebels in the Eastern Ghouta region outside the capital Damascus in April.
In an interview with Iranian television last week, Mr Assad said he was pursuing a political solution in the south-west, but that if it failed he would "have no other option but to liberate it by force". "Contacts are still ongoing between the Russians, the Americans and the Israelis," he added.
The US has said it "remains committed to maintaining the stability of the south-west de-escalation zone and to the ceasefire underpinning it" and has urged Russia to use its diplomatic and military influence over the Syrian government to stop it attacking rebel-held areas.