'I can't believe I'm driving in Saudi Arabia'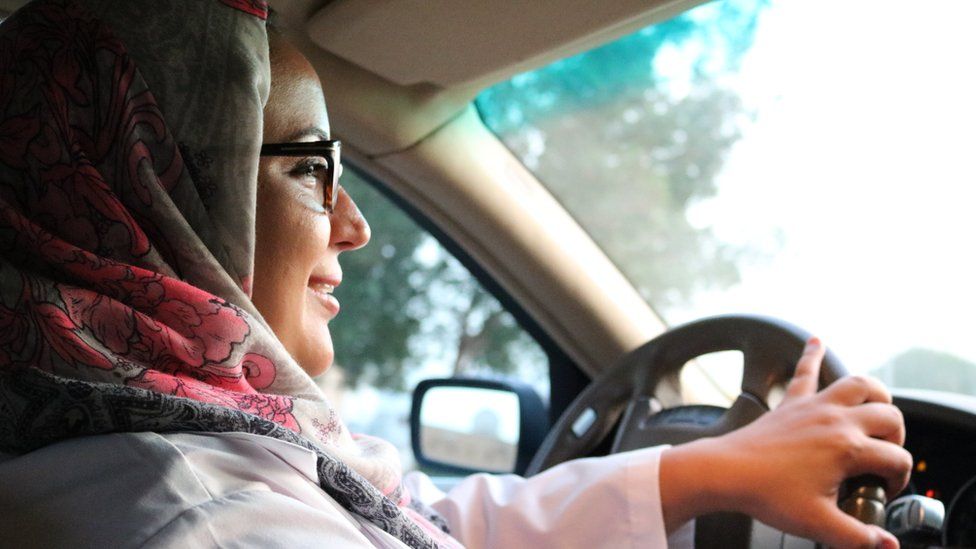 As Saudi Arabia lifts its ban on women drivers, Roa Altaweli, a midwife in Jeddah, makes her first drive to work. Here is her story.
I woke up earlier than usual today. I was so excited that I couldn't sleep. Today I'm driving to work, and for the first time I'm not taking a backseat. I'm behind the wheel. I still can't believe I'm going to be driving in Jeddah.
Saudi Arabia has today finally lifted its ban on women drivers. I was up until after midnight scrolling through social media for photos and videos of women hitting the roads in the moments after the ban was lifted.
Day one is a quiet one on the roads - a school summer holiday. Not a bad thing for anxious first-time drivers. Accompanied by my dad, for a few tips and some moral support, I set out for work.
On the way I pass the police, but I'm not scared of being pulled over. I have a licence and I'm driving legally in Saudi Arabia. I stop to get coffee from a drive-through, and I'm the first female driver the barista has ever served.
I used to drive when I was studying for a diploma in midwifery in Bahrain and I have had a driving license since 2005. I also had an international licence that I used to drive when I was on holiday in Dubai, Portugal and the US.
Converting my Bahraini driving licence was straightforward, but getting an appointment for a driving test wasn't so easy. Demand was so high everything before July was booked. Fortunately, my sister and I found openings a couple of weeks ago and passed on our first go.
My father and brother encouraged me and my younger sister to get the licence so we could drive as soon as the ban was lifted.
I am a midwife and I have obtained my PhD in midwifery in the UK. In Europe and developed countries, it is vital for a midwife to drive, in case they need to drive a mother to hospital instead of waiting for an ambulance. Having a driving licence is often required to do the job.
When home birth is allowed in Saudi Arabia, hopefully in the near future, driving will give mothers the option to give birth at home with the help of a midwife. Driving will also help female healthcare practitioners and physicians on late-night shifts get to hospitals safely rather than taking taxis.
I am now approaching the hospital in the eastern part of Jeddah where I work, entering the main gate. No one bothered me or stared at me on the way, and I feel like I have been driving here for a long time.
There is still a way to go, but it feels empowering to switch off the engine and walk into the hospital. Today is a historic day, and it feels full of the promise of more historic days for women in Saudi Arabia.
As told to Lulwa Shalhoub, a Jeddah-based freelance journalist who has written for Arab News and previously worked for the BBC's Arabic Service in London.