Syria war: Air strikes knock out hospitals in Deraa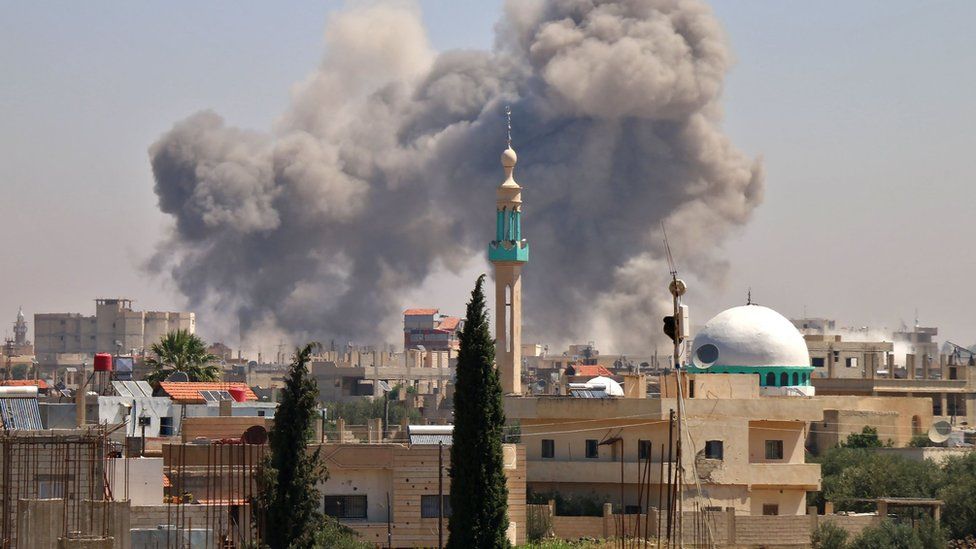 Air strikes have reportedly put three hospitals out of service in rebel-held south-western Syria, as pro-government forces press on with a major offensive.
A medical charity and a monitoring group said the facilities in the towns of Saida, Jizah and Musayfira, east of the city of Deraa, were hit overnight.
The strikes came as the army made gains in the region, which borders Jordan and the Israeli-occupied Golan Heights.
Up to 50,000 people have been displaced by the fighting in the past week.
The provinces of Deraa and Quneitra had been relatively calm for almost a year because of a "de-escalation" agreement brokered by the US and Jordan, which support the opposition, and Russia, a key ally of the government.
However, President Bashar al-Assad set his sights on retaking them after defeating rebels in the Eastern Ghouta region outside Damascus in April.
The Syrian Observatory for Human Rights reported that the hospital in Saida was put out of service after unidentified aircraft bombed the town after midnight.
Warplanes identified as Russian then hit the hospital in Musayfira, damaging it and forcing it to close, the UK-based monitoring group said. Later, the hospital in Jizah was damaged by Russian air strikes nearby, it added.
Ahmed al-Dbis of the medical charity Union of Medical Care and Relief Organizations, which supports hospitals in rebel-held Syria, told Reuters news agency that the strikes had caused "material damage" to the hospitals.
A civil defence centre in Musayfira was also struck and damaged, he said.
The Syrian and Russian militaries have previously denied targeting hospitals.
The Syrian Observatory for Human Rights also reported that at least 14 civilians were killed on Tuesday as pro-government forces stepped up their bombardment of rebel-held areas, which brought the number of civilians killed since the offensive began on 17 June to 46.
At least 39 rebels and 36 pro-government fighters have also reportedly died.
On Tuesday, Syrian state media reported that the army and allied militias had captured two key towns in north-eastern Deraa province and cut in half a strip of rebel-held territory running north from the Jordanian border.
Troops also shelled south-eastern districts of Deraa city, which has long been divided between rebels and the government, ahead of an all-out assault.
It warned that the displaced population was in urgent need of humanitarian assistance, and that southern border communities would soon be overwhelmed because Jordan had said it would not allow in any more refugees.
The kingdom has said its financial resources and infrastructure are already strained by hosting close to 1.3 million Syrians who have arrived since the Syrian civil war began in 2011, including 666,000 refugees registered with the UN.
Jordan has joined the US in calling for the "de-escalation" agreement to be preserved in order to prevent a wider confrontation between Israel and Iran, which backs Mr Assad and supports thousands of Shia militiamen fighting in Syria. But neither Amman nor Washington have said they will intervene to protect civilians.