US-Israeli teen convicted of threats against Jewish centres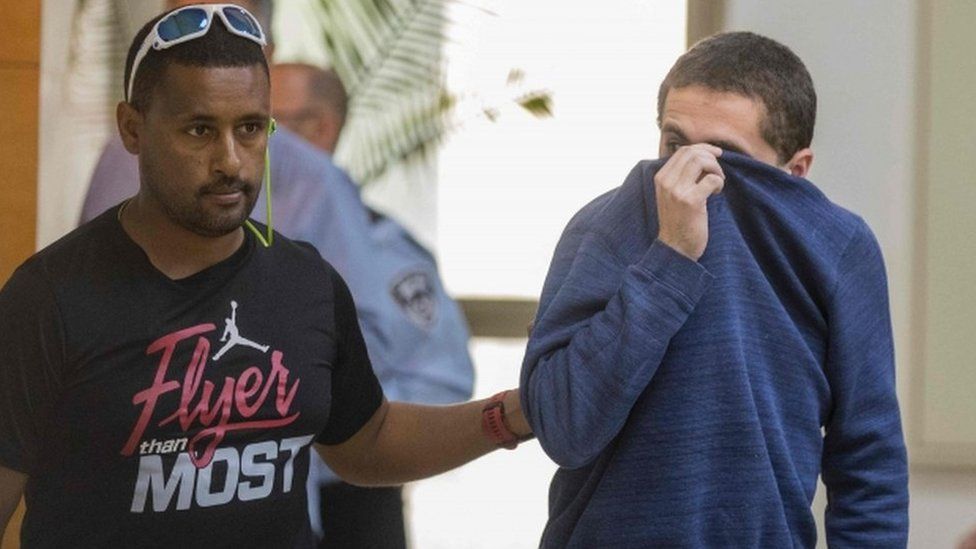 A court in Israel has convicted a 19-year-old American-Israeli man of making hundreds of threats to bomb or attack Jewish schools and community centres.
Michael Ron David Kadar was also found guilty of extortion, money laundering and assaulting a police officer.
He used the internet to make hoax telephone calls to the US, UK, Canada, New Zealand and Australia.
The threats forced evacuations and prompted concern among Jewish leaders about a resurgence of anti-Semitism.
Several airlines also received threatening calls, which led to planes carrying out emergency landings.
Kadar was arrested in the Israeli town of Ashkelon in March 2017 following a joint investigation by the Israeli and US authorities, including the FBI.
He was accused of making more than 2,000 bomb threats to Jewish institutions, airlines, airports, police stations, hospitals and sporting events.
"As a result of these threats, planes were forced to land in different airports, schools were evacuated and emergency forces were alerted," Israeli state prosecutor Yoni Hadad said.
"He essentially created panic, terrorised many people and disrupted their lives."
Kadar is alleged to have begun making threatening calls in 2015, but he was only tried over those made since 2016 when he turned 18.
In February 2017, several British Jewish schools were targeted and the Jewish Museum in London was evacuated after bomb threats attributed to him. He also made threats about British Airways flights between London and New York.
Kadar's parents argued that he had a brain tumour that caused autism and other mental problems, and that he should not be considered legally competent.
"The fact that they determined that he was fit to stand trial was a lie and a conspiracy against a helpless person. We have been raising this child for 18 years," his father said in court on Thursday. "He is incapable of telling good from bad. His discretion is horrible. There is a conspiracy here."
But Judge Zvi Gurfinkel rejected their claim, saying: "The defendant changed his version according to his needs. He is well aware of the consequences of his actions. He understands what it means and keeps changing his version according to the convenient defence line."
The indictment alleged that he made bomb and active shooter threats to a number of Jewish community centres in Florida, and the Israeli embassy and Anti-Defamation League in Washington DC. He is also accused of cyber-stalking and conveying false information to police in Georgia.