Syria war: 270,000 displaced by fighting in south-west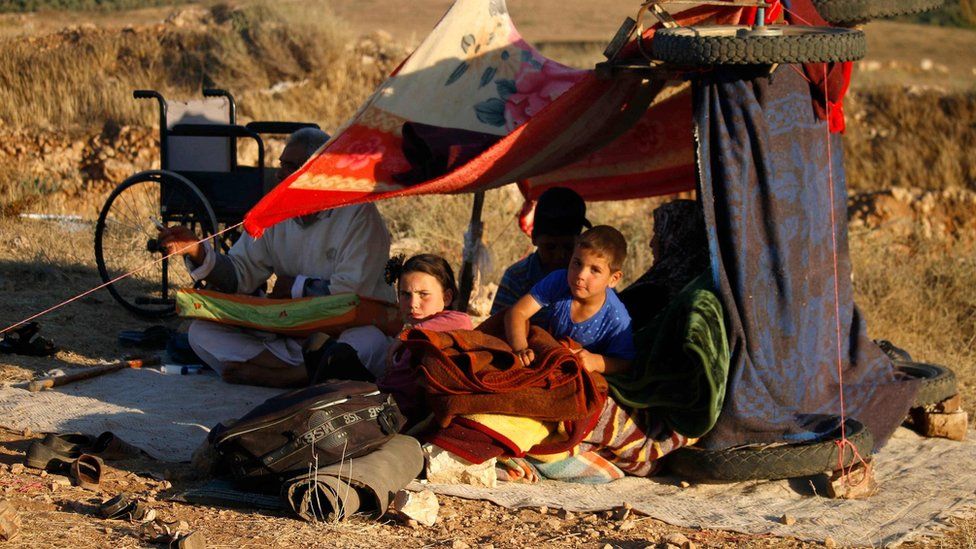 At least 270,000 people have fled their homes in south-western Syria since the military launched an assault on rebel-held areas two weeks ago, the UN says.
Many of those displaced by the fighting in Deraa and Quneitra provinces have headed towards the borders with Jordan and the Israeli-occupied Golan Heights.
But neither country has said it will allow an influx of refugees, sparking fears of a humanitarian crisis.
Government forces have been advancing with the help of Russian air strikes.
Over the weekend, more than a dozen towns and villages reportedly agreed to surrender and accept President Bashar al-Assad's rule.
More than 130 civilians have been killed since hostilities escalated, according to the Syrian Observatory for Human Rights, a UK-based monitoring group.
Deraa and Quneitra had been relatively calm for almost a year because of a "de-escalation" agreement brokered by the US and Jordan, which support the opposition, and Russia, a staunch ally of the government.
But Mr Assad set his sights on regaining full control of the provinces after defeating rebels in the Eastern Ghouta region outside the capital Damascus in April.
UN officials said on Monday that more than a third of the population living in rebel-held south-western Syria had fled their homes in response to the government's intense air, artillery and rocket strikes as well as clashes on the ground.
"We were expecting the number of displaced in southern Syria to reach 200,000, but it has already exceeded 270,000 people in record time," Mohammad Hawari, a spokesman for the UN Refugee Agency in Jordan, told AFP news agency.
Up to 70,000 of the displaced are reportedly gathered near the closed Nassib border crossing with Jordan, where many families are being forced to live in makeshift shelters or out in the open, without basic supplies.
"We lost our children, our houses, our places to take shelter," one woman at a camp told AFP news agency on Sunday. "We are sitting on the ground. We have no water to wash our hands. We have no water to drink, no food to eat."
The high number of displaced people has also increased the pressure on hospitals in border communities, which medics say have been repeatedly targeted by Syrian government and Russian air strikes since the government offensive began.
Jordan has kept its border closed and said it could not cope with taking in any more than the 660,000 registered refugees it already hosts, while Israel has said it will not allow Syrians to cross into its territory.
After meeting UN officials on Monday, Jordan's Foreign Minister Ayman Safadi said it had been delivering aid to crossings with Syria, but that there had been issues getting permission from Damascus to transport it over the border.
"We believe that it is in nobody's interest to have Syrians depart their country," he said. "There is no shortage of [aid] supplies. The question is just to get it across."
Mr Safadi also said he would hold talks with his Russian counterpart in Moscow on Tuesday, which he hoped would "take us more steps forward to contain this crisis and prevent more destruction".
Russia has opened negotiations with rebel factions on a wider ceasefire deal on behalf of the government. But several rebel commanders have rejected a proposal that they lay down their arms in return for guarantees of safety.
The Israeli military has also stepped up its humanitarian efforts.
On Friday, it took in six injured Syrians, including four young children, for emergency medical treatment. It also supplied tents, food, baby formula, medical equipment, clothing and shoes to camps in the Golan Heights demilitarised zone.
"We will continue to defend our borders. We will extend humanitarian assistance to the extent of our abilities. We will not allow entry into our territory," Israeli Prime Minister Benjamin Netanyahu told a cabinet meeting on Sunday.