Israeli space probe to land on Moon in 2019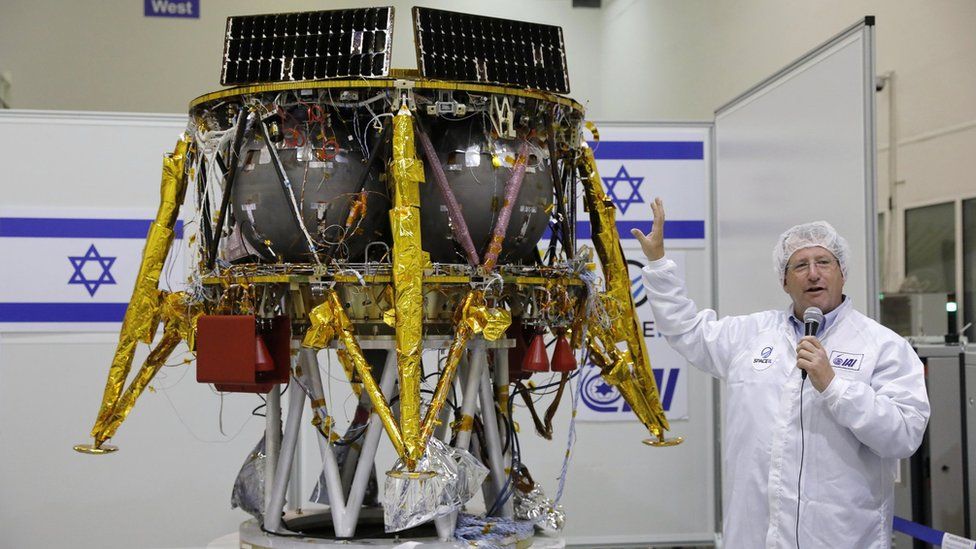 An Israeli non-profit organisation has announced plans to send the first privately-funded pilotless spacecraft to the Moon.
SpaceIL said the probe would be launched from Cape Canaveral, Florida, in December on a Falcon 9 rocket built by Elon Musk's SpaceX company.
It is expected to land on the Moon in February 2019.
The spacecraft will plant an Israeli flag on the Moon's surface and carry out research into its magnetic field.
SpaceIL's project began as part of the Google Lunar XPrize, which offered $30m (£23m) in prizes to inspire people to develop low-cost methods of robotic space exploration. However, the competition expired this March, with the $20m grand prize for landing on the Moon unclaimed.
Despite the setback, SpaceIL continued developing its spacecraft, which is being built in co-operation with Israel Aerospace Industries (IAI), a state-owned firm.
So far it has spent about $88.5m, much of which it has received from the South African-born Israeli billionaire businessmen Morris Kahn.
Ido Anteby, CEO of SpaceIL, told a news conference in the Israeli town of Yehud on Tuesday that its probe would be the smallest yet to land on the Moon.
It is about 2m (6.6ft) in diameter and 1.5m high, and will weigh only 585kg (1,300lb) at launch. More than 400kg of that weight is fuel that will be burnt off by the time it lands on the Moon.
The spacecraft is a "hopper", which will land and then take off again with the fuel left in its propulsion system, and then perform another landing 500m away, which was a condition of the XPrize.
If successful, SpaceIL's mission will make Israel the fourth country in the world to "soft land" a probe on the surface of the Moon - after the former Soviet Union, the United States and China.
Mr Kahn said he hoped the mission would create an "Apollo effect" for the next generation in Israel - a reference to the enthusiasm for science, technology, engineering and maths triggered by Neil Armstrong's Moon walk in 1969.
"This is a tremendous project," he added. "When the rocket is launched into space, we will all remember where we were when Israel landed on the Moon."
Ofer Doron, head of IAI's space division, said Israel was "going to show the way for the rest of the world" to send a spacecraft to the Moon at a reasonable cost.