Israel deals 'hardest blow' to Hamas since 2014 Gaza war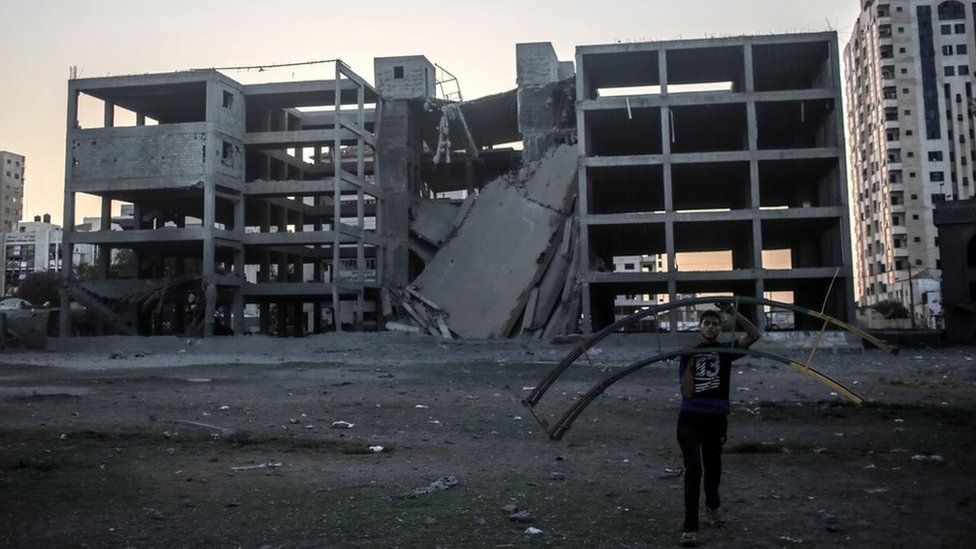 Israel has carried out its biggest attack against Hamas militant targets in Gaza since the war in 2014, Prime Minister Benjamin Netanyahu says.
The raids were a response to rockets fired into Israel, he said. Hamas said a truce had been agreed, but further exchanges have been reported.
Palestinian health officials said two people were killed and 12 injured in an air strike in Gaza City on Saturday.
Three Israelis were hurt by one of the rockets fired on Israel.
More than 200 projectiles - including rockets and mortars - had been fired into Israel since Friday, the Israel Defense Forces (IDF) said.
The IDF said it had struck facilities used by Hamas, which dominates Gaza, including a battalion headquarters in Beit Lahia, a training camp located in a high-rise building in the al-Shati refugee camp in northern Gaza, weapons storage facilities and rocket launchers.
Over the last hour, IDF fighter jets targeted dozens of military targets in four Hamas military compounds throughout the Gaza Strip. The focus of the wide-scale strike was a Hamas Battalion HQ in Beit Lahia pic.twitter.com/nDIxRA4ovn

— IDF (@IDFSpokesperson) July 14, 2018
Moments ago, IDF fighter jets struck a high-rise building in the Al-Shati refugee camp in northern Gaza. The building was a Hamas training facility. A tunnel was dug under the building & used for underground warfare training. This tunnel is part of a Hamas terror tunnel network pic.twitter.com/M3C53RKMaC

— IDF (@IDFSpokesperson) July 14, 2018
"In consultation with the minister of defence, the chief of staff and the top security command of the state of Israel, we have decided on strong action against Hamas terrorism," Mr Netanyahu said in a video statement.
"The IDF have struck Hamas with the hardest blow since Operation Protective Edge and we will increase the strength of our attacks as necessary," he added, referring to the 2014 conflict.
However, Palestinian officials said a ceasefire had now been agreed thanks to "Egyptian and international efforts". Israel has not commented on the report, although Reuters quoted an unnamed Israeli defence official a saying "only the facts on the ground will dictate our further response".
Witnesses told Reuters news agency an Israeli strike had hit an empty building in Gaza City and that the casualties were passers-by.
Hamas said another Palestinian had died after being shot by Israeli troops during border protests on Friday.
The IDF said dozens of rockets had been fired on Israel from within Gaza.
One rocket hit a home in the town of Sderot. Three people suffered shrapnel wounds.
The attacks come amid an escalation of violence in the region in recent months.
They coincided with mass demonstrations along the border which saw thousands of Palestinians express their support for the declared right of Palestinian refugees to return to their ancestral homes in what is now Israel - as well as demanding an end to the blockade of Gaza imposed by Israel and Egypt.
Israel and Egypt say the blockade is a necessary security measure against militants.
Gaza health officials say more than 130 Palestinians were killed and 15,000 others injured by Israeli forces during the protests. Human rights groups have accused Israeli troops of using excessive force. Israel says it has only opened fire in self-defence or on people trying to infiltrate its territory under the cover of the demonstrations.
Hamas, an Islamist militant group, does not recognise Israel's right to exist and there has been violence and wars between the two sides for many years.