Syria conflict: Rebels begin to leave Quneitra, with army set to take over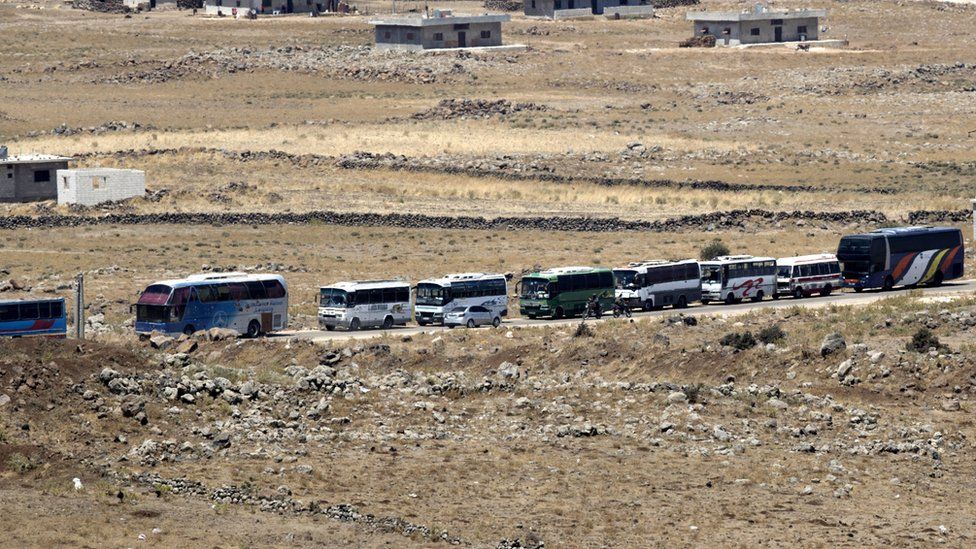 Evacuations have begun from Syria's Quneitra province, which borders the Israeli-occupied Golan Heights, under a deal between rebels and the government.
Under the deal, agreed on Thursday, fighters and any civilians who choose to leave will travel to opposition-held Idlib in the north.
Pro-government forces will then take control of the south-western province for the first time since 2011.
The army launched a major offensive to retake southern regions last month.
Two days of heavy air strikes preceded the latest agreement.
Reports of a deal emerged on Thursday but were not confirmed by the Syrian government.
On Friday, state news agency Sana reported that 28 buses had arrived in the province to begin the evacuations, although it is unclear how many people will leave Quneitra.
The Russian-brokered deal is the latest in a series of agreements between rebels and the government.
Buses and ambulances on Wednesday took 7,000 residents and fighters from Foah and Kefraya to government-held territory in Aleppo.
Meanwhile, pro-government forces are continuing operations to retake remaining areas of neighbouring Deraa province, including the Yarmouk basin, which is under the control of the Islamic State group.
Earlier this month, Israeli Prime Minister Benjamin Netanyahu indicated that his country would have no objections to Syria retaking control of Quneitra, as long as Damascus's allies, Iran and Hezbollah, were not nearby.