Israeli stabbed to death by Palestinian in West Bank attack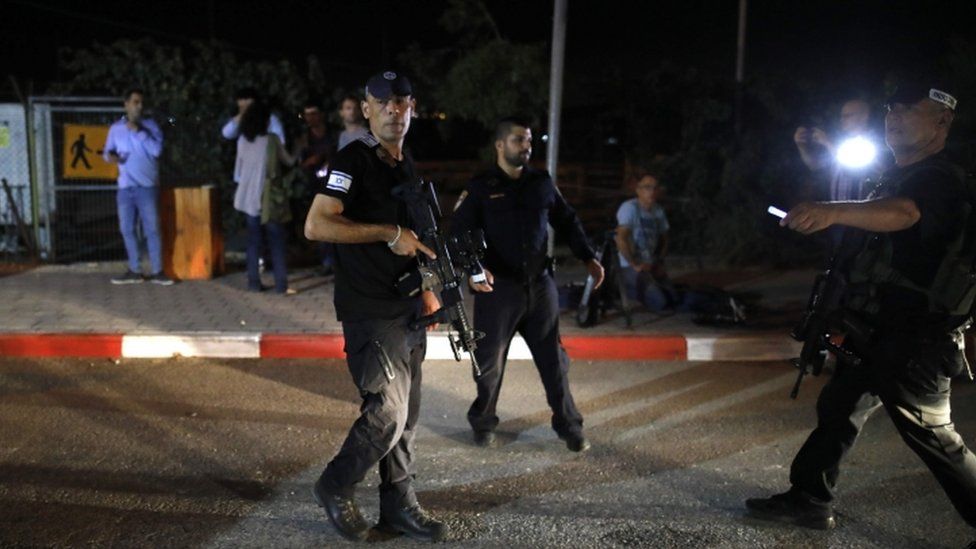 An Israeli civilian has been stabbed to death in a settlement near Ramallah in the occupied West Bank.
The 31-year-old victim was taken to hospital where he died of his injuries, a hospital spokesman said.
Two other Israelis were wounded in the attack in Adam on Thursday. One, aged 50, is in a critical condition and the other suffered minor injuries.
The Israeli army says the attacker was shot and killed, reportedly by a civilian who was passing by.
It says troops will be sent to nearby Kubar village, where the 17-year-old Palestinian attacker is reported to have lived.
"The terrorist infiltrated the community of Adam, north of Jerusalem, and stabbed three civilians," the army said in a statement. "Troops arrived at the scene and are searching the area."
Palestinian militant group Hamas said the attack was an act of heroism and revenge for three fighters who were killed in Gaza on Wednesday.
There has been a wave of stabbings, shootings and car-rammings of Israelis predominantly by Palestinians or Israeli Arabs since late 2015.
Dozens of Israelis have been killed in nearly three years of mainly lone-wolf attacks.
Some 300 Palestinians - most of them assailants, Israel says - have also been killed in that period, according to news agencies. Others have been killed in clashes with Israeli troops.
Israel says Palestinian incitement has fuelled the attacks. The Palestinian leadership has blamed frustration rooted in decades of Israeli occupation.
More than 600,000 Jews live in about 140 settlements built since Israel's 1967 occupation of the West Bank and East Jerusalem. The settlements are considered illegal under international law, though Israel disputes this.
There are also some 100 outposts - small settlements built without the government's authorisation.