Israel 'thwarts IS attack' on Golan Heights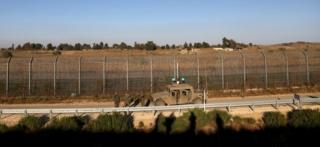 Israel says it has killed seven suspected Islamic State (IS) militants who it says had crossed inside Israeli lines on the Golan Heights.
The Israeli military said it launched an air strike near a ceasefire line separating Israeli and Syrian sides of a demilitarised zone.
It is a rare attack by Israel on militants in the area, recently retaken by Syrian forces from IS and rebels.
Most of the Golan Heights have been occupied by Israel since the 1967 war.
"Following searches this morning, explosive belts and an AK-47 assault rifle were found," the Israel Defense Forces (IDF) tweeted.
Israel said the group was around 200m (656ft) from an Israeli fence in the zone, delineated by Israel and Syria in 1974.
Syrian rebel fighters and government forces have clashed in the area, though President Bashar al-Assad has regained control of late.
The BBC's Middle East correspondent, Tom Bateman, who is in the Israeli-occupied Golan Heights, says that despite the infiltration, Israel sees Iranian forces loyal to President Assad as the biggest threat from inside Syria.
Israel says it will not allow Iran - Israel's arch-foe - to strengthen its military presence in Syria - something Israel considers a direct threat.
Although Israel is not directly involved in the Syrian conflict, it has increasingly carried air strikes against Iranian assets and military personnel in Syria.