Saudi Arabia suspends Toronto flights in row with Canada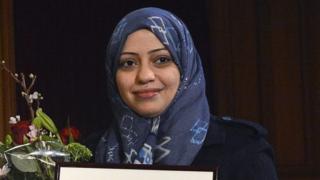 Saudi Arabia's state airline has suspended its direct flights to Toronto after Canada called for the release of detained activists for civil society and women's rights.
The Middle Eastern country has also frozen all trade and expelled Canada's ambassador over the "interference".
Canada has responded by saying it "will continue to advocate for human rights".
Those held include the Saudi-American human rights campaigner Samar Badawi, sister of jailed blogger Raif Badawi.
Canada's Foreign Affairs Minister Chrystia Freeland said she was "deeply concerned" by the diplomat's expulsion, but added: "Canada will always stand up for the protection of human rights, including women's rights and freedom of expression around the world.
"We will never hesitate to promote these values and we believe that this dialogue is critical to international diplomacy."
Her Saudi counterpart, Adel al-Jubeir, had earlier tweeted that Canada's position was based on "misleading information", adding that anyone arrested was "subject to Saudi laws that guarantee their rights".
The leading Saudi women's rights campaigner Manal al-Sharif thanked Canada for "speaking up" and asked when other Western powers would do the same.
In what appeared to be a further sign of deteriorating relations between the two countries, a verified Twitter account, which is reportedly linked to Saudi authorities, shared an image of a plane flying towards Toronto's famed CN Tower.
The image was overlaid with text, including a quote which read "he who with what doesn't concern him finds what doesn't please him".
People on social media have been quick to point out the similarities between the image and images of 9/11.
The account has since been deleted, but cached versions of the tweet are circulating online.
Who is being held?
Last Tuesday, the Office of the UN High Commissioner for Human Rights said at least 15 human rights defenders and women's rights activists critical of the Saudi government had been arrested or detained arbitrarily since 15 May.
Eight of them are believed to have been released pending "procedural reviews", but the whereabouts of several others are unknown.
Several of those detained have been accused of serious crimes, including "suspicious contact with foreign parties", and could face up to 20 years in prison.
Human rights groups reported that Ms Badawi was also detained last week, along with fellow women's rights campaigner Nassima al-Sadah.
Ms Badawi was given the US International Women of Courage Award in 2012 and is known for challenging Saudi Arabia's male guardianship system.
Her brother Raif was sentenced to 10 years in prison and 1,000 lashes for "insulting Islam" online back in 2014, while his wife, Ensaf Haidar, lives in Canada and recently became a Canadian citizen.
What did Canada say?
Foreign Minister Chrystia Freeland wrote on Twitter on Thursday that she was "very alarmed" to learn that Ms Badawi had been detained.
The next day, the Canadian foreign ministry called for the activist's "immediate release".
How did Saudi Arabia react?
The Saudi foreign ministry statement expressed "disbelief [at] this negative unfounded comment which was not based [on] any accurate or true information".
It insisted the activists were being detained lawfully and that the Canadian statements represented "blatant interference in the kingdom's domestic affairs".
The ministry recalled its ambassador to Canada for consultations and declared the Canadian ambassador persona non grata, giving him 24 hours to leave.
Saudi Arabia would also "put on hold all new business and investment transactions with Canada while retaining its right to take further action", it said. Trade between the two countries was worth $3bn (£2.3bn) in 2016.
All scholarships enabling Saudi students to study in Canada were also suspended, while students already in the country will be relocated.
It is unclear how many people this will affect. The Vancouver Sun said in 2015 that about 5,000 new students arrive from Saudi Arabia each year.