Gaza air strikes 'kill woman and child' after rockets hit Israel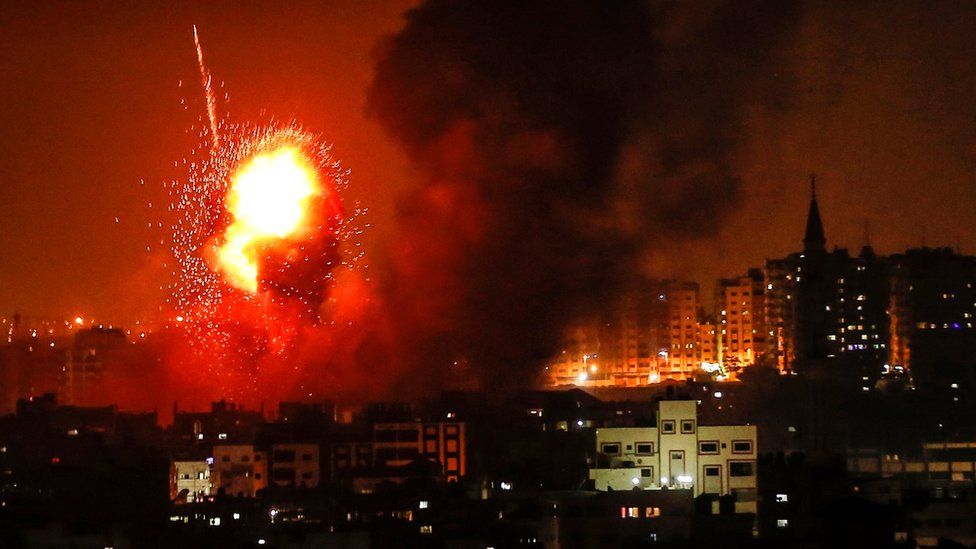 Three Palestinians have reportedly been killed in Gaza, as Israel carried out dozens of air strikes in response to a barrage of rocket fire by militants.
Gaza health officials said a pregnant woman and her daughter, aged one, were killed in the Jaafari area. A Hamas militant also died in the north.
At least seven civilians were injured by rocket fire in southern Israel.
The violence came as the UN and Egypt tried to broker a ceasefire between Israel and Hamas, which dominates Gaza.
"Our collective efforts have prevented the situation from exploding until now. If the current escalation, however, is not contained immediately, the situation can rapidly deteriorate with devastating consequences for all people," he warned.
What triggered the escalation?
This is the third serious flare-up in violence in the past month.
The Israel Defense Forces (IDF) said the tank had responded to shots fired at soldiers from the post. But Hamas said its fighters had been taking part in a live-fire exercise and that Israel would pay for their deaths.
After sunset, militants in Gaza launched rockets and mortars at Sderot and other towns in southern Israel, triggering sirens and sending civilians running for shelters.
The IDF said that approximately 180 projectiles were fired towards Israeli territory in total overnight. The Iron Dome aerial defence system intercepted more than 30 of them, while most of the others landed in open fields, causing no damage, it added. But some hit houses, cars, factories and a playground.
Five Israeli civilians were reportedly wounded elsewhere, while dozens were treated for shock.
The IDF said it responded by carrying out air strikes on more than 150 "military and strategic targets" in Gaza, including Hamas compounds, training camps, a weapons storage facility, a naval complex, a building site being used to make weapons and tunnel components, and two tunnels along the Gaza coast.
Gaza's health ministry said pregnant 23-year-old Inas Khammash and her 18-month daughter Bayan were killed in one of the air strikes. Her husband was reportedly injured.
At least 12 other people were injured in other strikes, two of them critically, according to the ministry.
What are the two sides saying?
The IDF said its air strikes had represented a "significant blow to Hamas" and warned the group that it would "bear the consequences for its terrorist activities against the citizens of Israel".
Hamas spokesman Sami Abu Zuhri tweeted that Israel bore "full responsibility for the current round of escalation", and called on the international community to "shoulder its responsibilities towards Israel's aggression and siege".
A Palestinian official at a joint command centre for militant factions in Gaza told Reuters news agency that they had been "responding to crimes" by Israel - an apparent reference to the incident on Monday. But he added that this round of fighting was now "over as far as we are concerned".
The calm only lasted a few hours, however, before a long-range Grad rocket landed in an open area on the outskirts of the southern Israeli city of Beersheba - setting off sirens there for the first time since the last Gaza war in 2014.
Shortly afterwards, an Israeli air strike hit a multi-storey cultural building in Gaza City, reducing it to rubble and injuring 18 people, Gaza health officials said.
There was no immediate confirmation from the IDF, but Israeli media said the building was believed to have served as a Hamas headquarters.
Why is the UN trying to broker a ceasefire?
There has been an upsurge in violence since the end of March.
More than 160 Palestinians have been killed by Israeli forces - most during protests along the border at which thousands have expressed their support for the declared right of Palestinian refugees to return to their ancestral homes in what is now Israel.
Human rights groups have accused Israeli troops of using excessive force at the protests, but the military said they only opened fire in self-defence or on people trying to infiltrate its territory.
One Israeli soldier has been shot dead by a Palestinian sniper during the same period, while incendiary devices attached to balloons and kites launched by Palestinians have sparked hundreds of fires in southern Israel.
Correction 23 October 2018: This article was amended on the day of publication after an earlier version reported incorrectly an IDF statement about an attack on an engineering vehicle.