Nabeel Rajab: UN experts call for release of Bahraini activist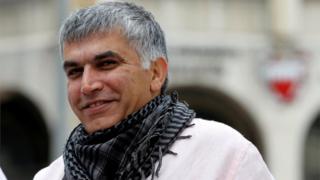 A UN panel has called for the release of a leading Bahraini human rights activist jailed for "spreading fake news" and "insulting a statutory body".
Nabeel Rajab's convictions were unlawful and violated his freedom of expression, the Working Group on Arbitrary Detention said.
He has served several years in prison since playing a leading role in a pro-democracy uprising in 2011.
The government insisted Rajab's trials had been independent and transparent.
"As in all countries, there is a distinct difference between legitimate criticism of government and attempts to incite public disorder," a statement emailed to the Reuters news agency said.
Rajab, head of the Bahrain Center for Human Rights (BCHR) and deputy secretary general of the International Federation of Human Rights (FIDH), has been detained since June 2016.
Last February, he was sentenced to five years in prison for tweets criticising alleged torture at a Bahraini prison and the actions of the Saudi-led military coalition fighting in Yemen's civil war.
He was already serving a two-year sentence after being found guilty last year of spreading false news that undermined Bahrain's "prestige" during a television interview in which he criticised the authorities for their refusal to allow journalists and human rights groups into the country.
In June, Rajab's five-year sentence was upheld by an appeals court in the Bahraini capital Manama.
Human Rights Watch cited the activist's family as saying at the time that he was suffering from a skin condition that required surgery and that he was being held for 23 hours a day with five other prisoners in a "cramped, dirty and insect-infested cell" that was no bigger than 3m (10ft) by 3m.
In an opinion posted online, the Working Group on Arbitrary Detention said the laws Rajab was convicted of breaking were, in some circumstances, "so vague and overly broad that it is impossible to invoke a legal basis justifying the deprivation of liberty". Given that, it concluded, no trial on such charges should have taken place.
The panel said Rajab's political views and convictions were "clearly at the centre of the present case" and that the Bahraini government's attitude could "only be characterised as discriminatory".
"He has been the target of persecution, including deprivation of liberty, for many years and there is no other explanation for this except that he is exercising his right to express such views and convictions."
Responding to the UN's findings, Sayed Ahmed Alwadaei, the director of advocacy for the Bahrain Institute for Rights and Democracy, said: "The UN has now unequivocally found that Bahrain is arbitrarily detaining Nabeel Rajab in violation of numerous international legal standards - these vital findings cannot be ignored."