Egypt internet: Sisi ratifies law tightening control over websites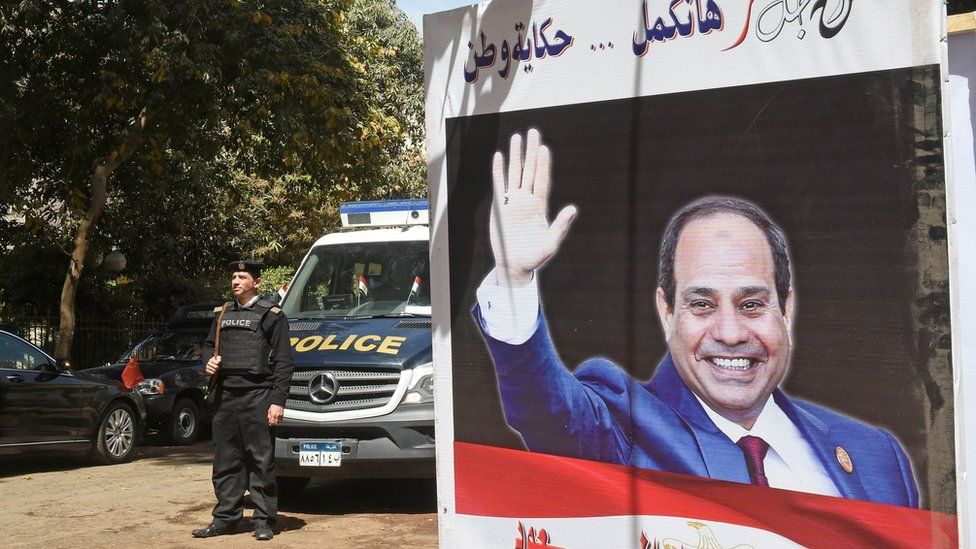 Egyptian President Abdel Fattah al-Sisi has signed a new law that tightens controls over the internet.
The legislation on "cybercrime" means websites can be blocked in Egypt if deemed to constitute a threat to national security or the economy.
Anyone found guilty of running, or just visiting, such sites could face prison or a fine.
Authorities say the new measures are needed to tackle instability and terrorism.
But human rights groups accuse the government of trying to crush all political dissent in the country.
The Cairo-based Association of Freedom of Thought and Expression said more than 500 websites had already been blocked in Egypt prior to the new law being signed.
Last month another bill was passed by parliament, yet to be approved by President Sisi, that would allow any social media accounts with more than 5,000 followers to be placed under supervision.
Correspondents says that with street protests in Egypt all but banned, the internet has been one of the last forums left for Egyptians to express dissent.
Human Rights Watch issued a warning last month that Egyptian authorities were increasingly using counterterrorism and state-of-emergency laws and courts to unjustly prosecute journalists, activists, and critics for peaceful criticism.
Those recently arrested include the well-known blogger and rights defender Wael Abbas; Amal Fathy, a political activist and the wife of the head of the Egyptian Commission for Rights and Freedoms; and the comic Shady Abu Zaid.