Islamic State survivor Nadia Murad engaged to Yazidi activist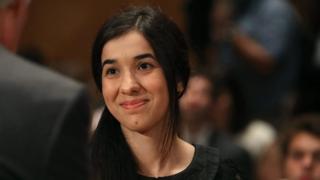 Nadia Murad, a Yazidi woman who survived horrific abuse at the hands of the Islamic State (IS) militant group, has revealed she is engaged to a fellow Yazidi human rights activist.
The 25-year-old said "the struggle for our people" brought her together with Abid Shamdeen.
The announcement comes days after the fourth anniversary of the IS attack on Ms Murad's village, Kocho.
Six of her brothers were killed in the massacre, and she was kidnapped.
During her time in captivity, she was bought and sold several times, and was subjected to sexual and physical abuse - including gang rape.
Ms Murad shared her story after managing to escape, and was appointed the first UNODC Goodwill Ambassador for the Dignity of Survivors of Human Trafficking in 2016.
On Monday, both Ms Murad and Mr Shamdeen shared a picture of themselves as they announced their engagement.
It is unclear exactly when the couple met. However, Mr Shamdeen, who lives in Germany, said on Twitter it was "during very difficult times in both our lives, but we managed to find love while fighting a huge fight".
"The struggle of our people brought us together & we will continue this path together," Ms Murad tweeted.
The news the engagement has been greeted with delight by people on social media.
Yazda, a US-based NGO which the couple work with, shared a picture on Twitter, adding the organisation was "wishing them a happy and safe life and a better future for them and all the survivors of the genocide".