Russia says 63,000 troops have seen combat in Syria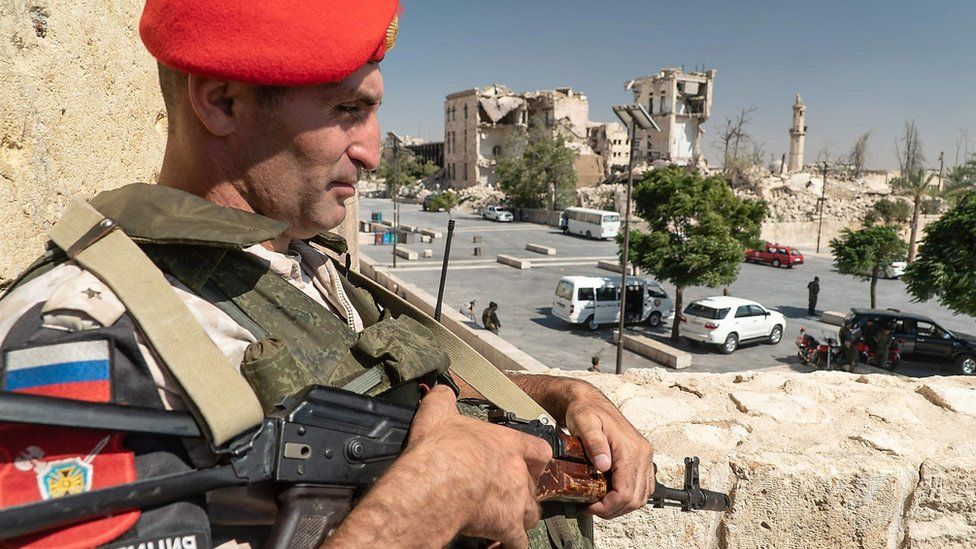 Russia has revealed the extent of its military involvement in Syria's war.
A defence ministry video said more than 63,000 Russian military personnel had "received combat experience" in the country since September 2015.
Defence Minister Sergei Shoigu said at the end of last year that 48,000 personnel had been deployed.
The video also said Russian air force had flown 39,000 sorties, destroying 121,466 "terrorist targets" and killing more than 86,000 "militants".
There was no mention of any Russian military or Syrian civilian casualties.
The Syrian Observatory for Human Rights, a UK-based monitoring group, says at least 7,928 civilians and 10,069 combatants have been killed in Russian air strikes.
The defence ministry video also said Russian forces had tested 231 types of weaponry in Syria, including aircraft, surface-to-air systems, and cruise missiles.
Russian forces have played a key role in consolidating the position of their ally, Syrian President Bashar al-Assad, over the past three years.
The conflict has swung heavily in his favour, with rebel forces being routed in many parts of the country, most recently in the Eastern Ghouta region near Damascus and in the south-western provinces of Deraa and Quneitra.
Pro-government forces are preparing to launch an assault on the last major rebel stronghold, the north-western province of Idlib, where two million people live.
Officials in Moscow have stressed that Russian air strikes only target "terrorists", but activists have said they mainly hit mainstream rebel fighters and civilians.
UN war crimes investigators have also said that Russian and Syrian government aircraft have bombed hospitals, schools and markets, which are protected under international humanitarian law. Both militaries have denied the allegation.
A US-led multinational coalition battling the Islamic State (IS) group has said it has carried out 29,826 air strikes in Syria and neighbouring Iraq since August 2014.
The coalition has assessed that at least 1,059 civilians have been unintentionally killed in the strikes. However, an organisation that tracks allegations of civilian deaths, Airwars, says between 6,500 and 10,000 civilians are likely to have died.